Young artists steal the show in exhibition
Rana A Siddiqui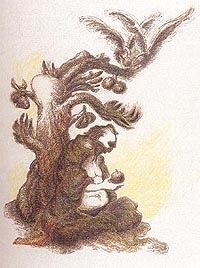 'Man with Fruit' by Ranbir Singh Kaleka.
There is no dearth of talented artists in contemporary India. This was amply demonstrated at an exhibition of 84 contemporary artists, both famed and obscure, at Art Alive Gallery in New Delhi (On display till February 20). It was also obvious at the exhibition that on the Indian canvas, the famed and the obscure collide with monotonous regularity. Only, at times, the obscure works are swamped by the 'branded' artistic fraternity.
The show at Art Alive Gallery, created by Suneet Chopra, had many firsts to its credit: For example, a work by a cook from Purulia, works of painters who were inspired by Chinese and Japanese art, an artist who put India on canvas and resided in Lahore, and yet another who has just come out of hibernation.
Roop Krishna is the artist from Lahore, who left India in 1946, and eventually moved to London. His numerous works, such as the one untitled on Gouche, was what his Indian admirers got to see this time. He died in 1968.
One also saw at the gallery Vineet Kumar's 'Ageless Leaves,' an acrylic on canvas, that captures China's beautiful spring in yellow, red and green hues. Why China? Because he was nominated by the Government of India to study Ink painting Techniques at the Central Academy of Fine Arts, Beijing. He remained there for 6 years and brought to India the rich and serious art of that county. "People in China are artistically more aware and also serious about their work while here in India there is a casual approach to art," he says drawing a distinction.
There was another self-taught tribal artist of Purulia, Paresh Roy, whose `Radha Krishna' in water colours belies his occupation as a cook. He equals any good artist of repute in the choice of his colors and figurative work. Chopra has introduced Roy, who would express his passion for arts on the walls and floors of his house in Purulia. "I was amazed at the skill he has. I could not believe an ordinary cook made it. He needed to be introduced to the art circles and vice-versa," said Chopra.
There are artists whose optimism is expressed best in their inimitable works. An upcoming artist, Saba Hasan's 'Treaty,' in mixed media construction, Debatra De's 'Light of Hope' and Nupur Kundu's 'Bloom' are only a few in the galaxy of other promising artists.
Art should not only inspire and please but also tickle the funny bone. With this in mind, senior artists like Avijit Roy painted a smiling 'Bull' in charcoal, Kanchan Chander went for 'Cartoon Network' in oil, and Ananada Moy Banerji gave 'Dil da mamla hai' in pulpcast ink and pastels, portraying film stars, the tricolor and mythological and national figures. The visual treat was greeted with an ear to ear grin. While Bikash Poddar's 'Fishing' will absolutely involve you in its serene environs, the works in bronze and sheesham wood by K S Radhakrishnan and Atul Sinha make you explore new realms of art, where there is still so much waiting to be discovered. In the cosmos of works of gifted artists, creations of famed artists like Bulbul Sharma and Francis Newton Fouza, however, drew little attention.