Tuesday, February 12, 2002, Chandigarh, India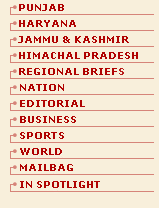 C A L E N D A R
Tuesday, February 12, 2002
Vikrama Samvat
2058
Phalguna
01
Shaka Samvat
1923
Magha
23
Hijri
1422
Zilkad
28

Maghi Amavasya up to 1-12 p.m.
The fifteenth lunar day of the dark half of Magha.
Dhanishtha Nakshatra up to 3-38 a.m. (February 13)
The moon enters Aquarius at 2-8 p.m.
The sun enters Aquarius at 12-20 a.m. (February 13)
Venus enters Shatabhisha at 5-18 p.m.
Sankranti celebration afternoon.
Mouni Amavasya
Beginning of Panchaka at 2-8 p.m.
Venus enters shatabhisha at 5-0 p.m.
Dinbandhu Andrews Jayanti
Ganga mata fair at Haridwar (UP)
Ending of Sarvodaya fortnight.