Pearl kidnapper in Lahore: Pak police
Karachi, February 11
The Pakistani police today said it believed that chief kidnapping suspect Sheikh Omar was hiding in the eastern city of Lahore amid growing concern for the fate of his hostage, US journalist Daniel Pearl. Senior police sources involved in the massive manhunt revealed they had spoken with Omar, the British-born Islamic extremist accused of kidnapping Pearl and threatening to kill him almost three weeks ago.
In Education Tribune today
THE TRIBUNE MAGAZINES
On Mondays

On Sundays
On Saturdays

IN PASSING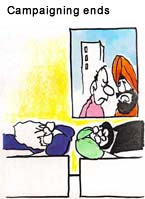 One of them will wake up after poll results and the other one after 5 years!

by Sandeep Joshi
Giani Kewal Singh, son denied bail
Bathinda, February 11
The Additional Sessions Judge, Mr Karnail Singh, today refused bail to former Jathedar of Takht Damdama Sahib, Giani Kewal Singh and his son, Baljinder Singh, and his kin Joginder Kaur on the applications moved by them in a criminal case registered against them in connection with the dowry death of his daughter-in-law, Sharnjit Kaur in 1997.



Rain intensifies cold wave
Vehicular traffic in Himachal disrupted
Chandigarh, February 11
Rains lashed several parts of Punjab, Haryana and Himachal Pradesh, reviving cold wave conditions at many places in the region even as mercury plummeted to a bone chilling 6.50C in Shimla during the day, today. The city received heavy rain (9 mm) during the day and maximum dropped by a few degrees to record 17.80C, a weather bureau official said here.
Temple construction from March 15
February 11, 2002

Ansari held in UAE, brought to Delhi
February 10, 2002

No deal on N-subs
February 9, 2002

Defence scams insult to soldiers: Sonia
February 8, 2002

Don't rake up coffin issue: PM
February 7, 2002

We'll fulfil vows: Sonia
February 6, 2002

Holed-up ultras surrender
February 5, 2002

PM's no to convert LoC into border
February 4, 2002


Pak: PoK not to be used for terrorism
February 3, 2002


5 killed in Pak shelling
February 2, 2002


Ram Temple not on agenda: BJP
February 1, 2002