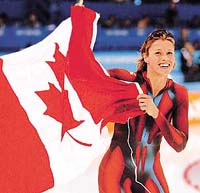 Speed skater Catriona Lemay Doan of Canada celebrates after winning race two of the women's 500m competition at the Salt Lake 2002 Olympic Winter Games, on Thursday.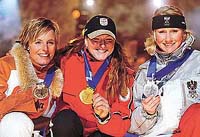 Olympic alpine women's combined champion Janica Kostelic (C) of Croatia, silver medallist Renate Goetschl (R) of Austria and bronze medallist Martina Ertl of Germany pose at a medal ceremony on Thursday.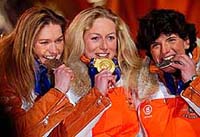 Olympic women's singles luge champion Sylke Otto (C), silver medallist Barbara Niedernhuber (R) and bronze medallist Silke Kraushaar, all of Germany, pose at a medal ceremony on Thursday.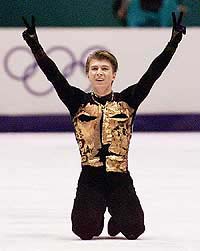 Figure skater Alexei Yagudin of Russia reacts to the crowd after performing his free skating routine on Thursday. Yagudin won the gold medal in the competition. — Reuters photos
Gambhir slams double ton
Vijayawada, February 15
Making the most of the opportunity to press his candidature for a call to the national squad, Delhi youngster Gautam Gambhir scored a strokeful double ton (218) and helped Board President's XI to 361 for three at the end of day one of the three day tie against the visiting Zimbabwe side here today.
ECB seeks ICC's intervention
Wellington, February 15
The row between England and former India captain Sunil Gavaskar seems set to rumble on with ECB chief executive Tim Lamb seeking the intervention of cricket's governing body.
Criticism "too personal"
New Delhi, February 15
He sees "a lot of injustice" in the criticism directed against him, some of it "too personal", but Sourav Ganguly says he has had enough of controversies and that he wants to get on with the job of leading the Indian cricket team.
World Cup: IHF names 18-member squad
Gagan Ajit, three others dropped
New Delhi, February 15
The Indian Hockey Federation today named an 18-member team for the 10th hockey World Cup to be held in Kuala Lumpur (Malaysia) from February 24 to March 9.
WORLD CUP — Track Record
Unending gold hunt for Germans
Chandigarh, February 15
With one silver and four bronze, Germany's hunt for the gold in the men's hockey World Cup appears to be unending. The erstwhile West Germany made their debut in the World Cup in its inaugural edition at Barcelona in 1971 and took the fifth spot despite recording the biggest 5-1 win over Argentina in the tournament.
DURAND CUP
Zee Churchill eyeing maiden title
New Delhi, February 15
Zee Churchill have rarely figured in the final of a major football tournament in the country, and it will be a day to remember for them when they take on Mahindra United, Mumbai, in the final of the 114th edition of the Durand Cup Football Tournament at the Ambedkar Stadium here tomorrow.
Jeev takes lead
Gurgaon, February 15
Using his putter to deadly effect, ace golfer Jeev Milkha Singh carded six under 65 to lead the field at halfway stage of the $ 300,000 Hero Honda Masters, here today.
Powerlifting trials
Patiala, February 15
Trials to select the Punjab powerlifting teams for men and women will be held at Mangal Victory Club, Jorian Bhattian, here on February 17.