Sunday, February 17, 2002, Chandigarh, India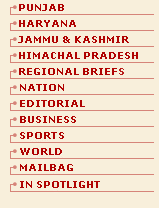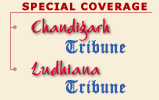 E D I T O R I A L P A G E
| | | |
| --- | --- | --- |
| | PERSPECTIVE | |
Prabhat Kumar's exit marks systemic putrefaction
Ram Varma
The Governor of Jharkhand, Prabhat Kumar, had to quit in disgrace. His sins of the past had caught up with him to torment and haunt him and to strip him of his gubernatorial garb.
Reviving the Punj Piara concept of collective leadership
Hardit Singh


During the last two decades the functioning of the Sikh Takhts, particularly Akal Takht and its Jathedar, has become controversial due to ignorance and lack of understanding of its history, tradition and role. People and organisations make representations to the Jathedar for his advice as if he were the supreme authority of the Sikhs.
Examining the core of the 'core issue'
It should not be too difficult to comprehend the compulsion behind General Musharraf's need to keep harping on what he termed as the 'core issue' during the Agra summit. Kashmir is the core issue, but not in the sense that the Pakistani General has seen fit to project it.
Market ruled petro prices
February 16, 2002
Now, the long wait
February 15, 2002
Omar "held", 19 to go!
February 14, 2002
It's voters' day
February 13, 2002
India does it!
February 12, 2002
CBI secures its terrorist
February 11, 2002
Presenting the picture of a timid, frightened nation
February 10, 2002
Defence deal
February 9, 2002
Elections without issues
February 8, 2002
Middlemen to the fore
February 7, 2002
Shedding extra flab
February 6, 2002