Carry on doctor
Back in the eighties when there were no cable and satellite channels to worry about, Doordarshan was king. It aired memorable soaps, comedies and epics like Hum Log, Yeh Jo Hai Zindagi and Mahabharata that old-timers still remembers with a tinge of nostalgia.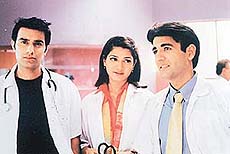 Sanjivani: Saviours of life


Another show of yesteryears that has stood the test of time is Lifeline, which is about life in a hospital and the challenges doctors face in their day-to-day routine.
Now, years later, Star Plus carries on from where Lifeline and Doordarshan left off. Sanjivani every Wednesday at 9 p.m. revolves around a hospital and the people who work there and delves into the professional and personal lives of doctors and nurses.
The series marks the television debut of actor Nutanís son Mohnish Behl. After doing countless roles as villain and bada bhai; he has decided to make his small screen entry with Sanjivani. Co-starring Smita Jaykar, Shagufta Ali and Daisy Irani, Sanjivani is being directed by Kausik Ghatak who short to fame with Kyunki Saas Bhi Kabhi Bahu Thi.
So, move over Chicago Hope and ER and all that high-tech gadgetry associated with hospitals in the US. Indian viewers are more at home with worn-out medical equipment and doctors ready for the TV cameras to roll ó with plastered smiles on their faces.
Food for thought
"Cooking is an art and its main ingredient is love. All great cooks put dollops of love in their creations to bring out the true flavours," say celebrity chef and TV host Sanjeev Kapoor.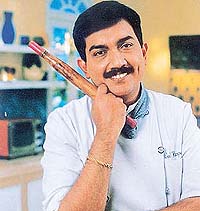 Sanjeev Kapoor: A chefís journey of discovery

Credited with bringing cookery out from the domain of housewives and their kitchens, the Khana khazana host has now embarked on a journey of another kind. This time he is on a mission to collect recipes from all over the country for an encyclopaedia of Indian cuisine.
"This will perhaps be the most comprehensive book on Indian food," says Kapoor who is also planning to bring out the Sanjeev Kapoor Low Calorie Vegetarian Cookbook for weight watchers. But thatís not all, hold your waistlines ó Kapoor is also compiling a bibliography of any published material of Indian food.
"Weíve been looking a food references in the numerous paintings of Lord Ganesha, the ancient temples in South India, the miniature paintings of Rajasthan and all documented references to the kind of food eaten in that period of history," says, Sanjeev Kapoor.
All these projects have not distanced this master-chef from television and he is ready with another cookery show called A Touch of Turmeric for which he is on a lookout for channels. From chef to host to writing books, when it comes to cooking, Sanjeev Kapoor has few parallels, he has made cookery an art form.
Yesterday, once more
Back in 1995, her chiselled features, confident gait and towering height made Mehar Bhasin a much sought after model. Not just that. Even global cosmetic giant, Revlon, selected her as Indiaís first brand ambassador where she shared honours with international super models like Cindy Crawford and Claudia Schiffer.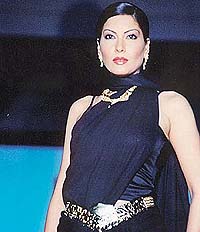 Mehar Bhasin: Model anchor
Now Mehar is back. No not so much on the modelling scene as on the small screen. She is resurrecting one of Doordarshanís oldest TV song-and-dance show, Chitrahaar, repackaged as Ik Pyar Ka Nagma Hai on weekdays at 11.30 am. on DD National Network, the show is a compilation of popular Hindi films songs.
When it first appeared in the early eighties, Chitrahaar was a novelty as it didnít have to compete with (V), MTV and B4U. Two decades later, the concept is jaded and done to death. Every channel has one or two or many more filmi countdowns where you canít do much in terms of innovations.
Mehar says it is a new concept in that she lets you on to her beauty secrets after youíve heard the songs. Given the fact that sheís hosted Womenís Hour and Good Morning Zee, she certainly would know quality from cliche. But, she says, "Iíve always been interested in music. When I was offered this show I grabbed it with both my hands."
So, all those who were missing Chitrahaar now have a chance to grab a bite of it again!
New direction
The popularity of Dollar Bahu seems to be dipping faster than the sinking value of the Indian rupee against the American greenbacks. Written by Sudha Murthy, wife of Infosys chairman Narayan Murthy. The serial had a promising start. But in the past few weeks its rating has dipped to a dismal 0.2 per cent.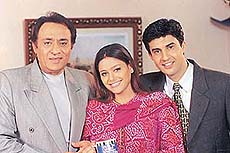 A scene from Dollar Bahu: Dipping fortunes

Producer Sunil Hali who stays in New York squarely blames director Ajay Sinha for the plummeting fortunes of the serial. He has now sacked Sinha and replaced him with Ravi Khemmu who earlier directed Muskaan.
A tale of crossed lovers who travel between India and America, Dollar Bahu has a complex storyline about Indians settled in the U.S.
In fact, producer Hali specialises in serials about NRIs hyphenated between American and Indian cultures. He does N. R. Eyes, a biography series featuring non-resident Indians, a South Asian soap titled Mausam, a sitcom about Indian immigrants called New York? Oh My God and cross-cultural romantic comedy titled When Harry tries to Marry.
With such a high rate of success it is but natural that the producer was getting increasingly worried about the falling TRPs of the serial which is being shot in India and the US. Now he hopes to reverse the downtrend with the change of the directorial guard.
Wings of life
They have existed for over 225 million years. Their ability to adapt is one of evolutionís foremost success stories. Their diversity is phenomenal" and their biomass colossal.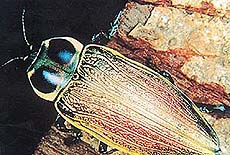 Insectia: Inhabiting earth for the last 225 million years!

Meet the lead stars of Insectia on the National Geographic Channel on February 26 at 8.30 pm. They are insects who by themselves represent 80 per cent of all living species. Their weight exceeds that of all mammals put together. They are the inventors of paper, sonar, air conditioning and chemical warfare.
The insectsí large family includes over one million species and they can be found in every conceivable ecological niche. In spite of their multiplicity and omnipresence, insects are the least-known living creatures and above all, the least understood by the public at large. They are the victims of prejudices and of indifference.
Yet humans can learn a good many lessons from the champions of survivals on the planet. The stunning show draws parallel between our lives and those of the insects ó the rightful owners of the earth.
ó Mukesh Khosla