Suspected plague cases in Hisar
Teams rushed to Fatehabad villages
Hisar, February 22
A woman suspected to be suffering from pneumonic plague has been admitted in the local General Hospital where she is being treated for the presence of a pneumonic patch pending confirmatory tests for plague.
Maoists kill 34 cops
Kathmandu, February 22
Barely hours after the Nepal Parliament extended the state of emergency, Maoists unleashed a fresh wave of violence in Nepal, killing 44 persons, including 34 policemen, while losing eight of its men at the hands of the security forces.
THE TRIBUNE MAGAZINES
On Mondays

On Sundays
On Saturdays

IN PASSING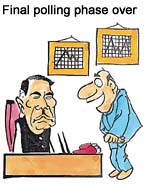 Sir, now that the poll is over, we can be free to impose taxes!
by Sandeep Joshi
Cops beat, kidnap 2 brothers
Amritsar, February 22
Panic gripped the city when 12 armed persons, including a police inspector and three other policemen in uniform allegedly kidnapped two businessmen brothers from the posh Ranjit Avenue Colony here late last evening.
Another spell of snow in Shimla
Shimla, February 22
The entire tribal belt and parts of Shimla district experienced another spell of snow this afternoon. According to reports, tribal districts of Lahaul-Spiti, Kinnaur and Pangi valley in Chamba district experienced heavy snow today.
Repoll ordered at 55 booths in UP
New Delhi, February 22
The Election Commission today ordered repoll in 55 polling booths spread over 18 Assembly constituencies in Uttar Pradesh and 70 polling booths in the hilly region of Manipur While the repoll in Uttar Pradesh would be held tomorrow, in Manipur it would be conducted on Sunday, a spokesman for the Election Commission, Mr A.N. Jha, said.



Chances of durable coalition government in UP remote
State may go in for President's rule and fresh Assembly elections
Lucknow, February 22
The scene of action has now shifted to the state capital of Uttar Pradesh. The mood is far from cheerful. In certain quarters there is already talk of early Assembly elections, possibly at the end of the year!
Voters defy Pak firing, militants
February 22, 2002

Maoists gun down four, burn engine
February 21, 2002

Thakur confirms it is plague
February 20, 2002

9 hurt in UP poll violence
February 19, 2002

8 of two families killed
February 18, 2002

India rejects Pak plea on list of 20
February 17, 2002

USA rejects Pak plea for mediation
February 16, 2002

55 to 90 pc turnout in UP, Uttaranchal and Manipur
February 15, 2002

Violence marks polling in Punjab
February 14, 2002

Flag marches in Punjab on poll eve
February 13, 2002