V women
Anchoring was her calling, she says. She found her life's metier right after she graduation. However, Pooja Mukherjee could also add that creativity is in her genes.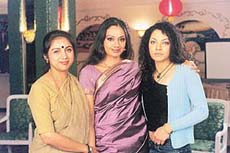 Revathi, Shobhna & Pooja on Channel V: Probing a woman's mind.

Daughter of an author father and painter mother, Pooja had an artistic upbringing. She applied to Channel (V) though not for an opening of a VJ that most young people want but to anchor a serious show. One look at her and the music channel knew she wasn't just a talking head but meant business.
The result is an issue-based show called What Women Want every Tuesday, 8 p.m. "I didn't expect Channel (V) to offer me such a wonderfully conceptualised show. It's not a fanatical neo-feminist show, rather, it's about women achievers. In other words it is a fun and thinking show," says the new celebrity host.
This certainly is a thinking woman's show. Her very first guest was the gorgeous Raveena Tandon who talked about complex man-woman relationships. In the subsequent episodes she had Nandita Das and then the must-in-news Revathi Menon and Shobhana who've made a sensitive film Mitr — My Friend with an all-woman crew.
These new-age ladies can talk intelligently on any subject ranging from homosexuality to keeping fit and from social taboos to a woman's struggle to succeed in a man's world. And going by the initial response the vivacious Pooja seems to have struck the right cerebral chord with fun-minded Channel (V) viewers.
Rewind to the past
It's back to the golden era of Bollywood when style was king — and queen. Star Gold brings Kuch Yaadein Kuch Battein Sunday at 10.30 p.m. dedicated to film icons who are now slowly fading from people's memories — sophisticated vamp, Nadira, stylish Feroz Khan, badman Ranjit, dancer-actress Vijayantimala, comedian Johnny Walker and more.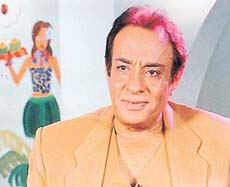 Kuch Yaadien Kuch Baatien: Celebrating nostalgia.

Each 30-minute episode of this 26-part series, is a story of their reel and real life, from the day they stepped into the glamour world of Hindi films, to their career, dreams, aspirations and the status they enjoyed.
The show looks at the life and times of each star, over three decades, through candid interviews and conversations with people known to these veteran stars — their producers, directors, colleagues, family members and friends.
Kuch Yaadein Kuch Baatein captures the charisma, talent and hard work that went into making of that star. The show is not just a mere reflection of the life of a personality being featured, but also a walk down memory lane, with someone whom you have admired, adored, applauded and perhaps idolised.
Says Monica Tata, Star's senior vice president (programming): The show tries to bring back their golden presence that once added to the glamour and glitter to the industry." So this is your chance to re-live the era of these icons whom we've loved and adored.
Khan can cook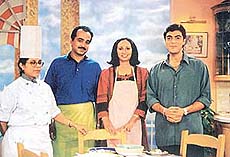 Khan (Right) on Star Sunday Lunch...Lessons in cooking.

Till now Aly Khan's claim to fame — if you can call it that — was the role of a detective's assistant in Yeh Hai Raaz and the host of a cookery show, Star Sunday Lunch. Now he can add the character of a gigolo to his credits! No, not on TV. Khan makes his big screen foray in Govind Nihalani's, Deham where he plays a male hooker.
So, is he bidding adieu to television? No, says the Karachi-born Khan, he'd like to be on both sides of the fence much like Mohnish Behl, Alok Nath and, of course, the Big B. Khan is currently doing two serials Sujata on DD Metro and Hubahu on Sony TV.
But the role he identified most with was that of the host of Star Sunday Lunch. When he took up the assignment he had no idea that it would be so much fun, says Khan. Now he says he's not just a great cook but is compiling his 100 best recipe from the show in book form.
Says he, "I cook with the same passion with which I act." One just hopes the end result is palatable!
Not the marrying kind
Philandering husbands, unwed mothers, lust and rape seem to be the flavour of the season on television. Karam every Tuesday on Sabe TV is another marriage-gone-sour serial with a very predictable storyline.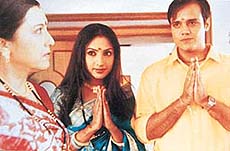 Karam: Predictable storyline.
It revolves around Manasi, a rape victim who agrees to marry a man without seeing him. Little does she realize that he is the same guy who had raped her. Manasi has suffered in silence and has never disclosed to anyone the humiliation heaped upon her.
The story takes a dramatic turn when she goes for a religious ceremony to her would be in-laws house. She is dumbstruck when she sees the villain she's consented to marry. Manasi comes back home shattered and mentally demolished and says she is not interested in the marriage without disclosing why.
Her shocked family members are in turmoil and try to reason with her. She is adamant and thwarts all talk of marriage. But they insist on knowing the reason for her stubbornness.
Will Manasi spill the beans or will she fight her own battles in life? In case you are not already upto your ears with such teary stuff keep watching Karam for the answers.
— Mukesh Khosla