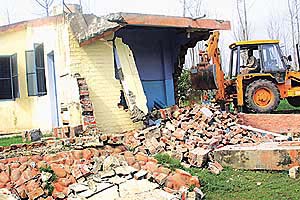 A farmhouse in Kot village, Panchkula, being demolished by staff of the Department of Town and Country Planning on Thursday. — A Tribune photograph
'Partisan' demolition staff in action
Dab Kauri (Panchkula), February 28
The Department of Town and Country Planning today carried out a drive against illegal structures here which had come up in contravention of the Periphery Control Act.
PARKING BLUES-II
Paid parking making matters worse
Chandigarh, February 28
Prevention is better than cure, so goes the saying.
'Evacuee' farmers have a field day
SAS Nagar, February 28
Ownership of over 1,200 acre of land in Sohana and Mauli Baidwan villages, acquired by the Land Acquisition Collector of PUDA a year ago for five new sectors (76 to 80), continues to be in the possession of the 'evacuees'.


T.K. Ramasamy cremated
Chandigarh, February 28
Mediamen of Chandigarh today bade an emotional farewell to Mr T.K. Ramasamy, Editorial Adviser to The Tribune, who died here yesterday.
No headway in Riaz's spy links
Chandigarh, February 28
After the arrest of an alleged Pakistani spy Mohamad Riaz by the Chandigarh police. No further developments in the one-and-a-half-year old case has resulted this week.
Gujarat train tragedy: city police alert
Chandigarh, February 28
Following coaches of the Sabarmati Express being set afire by miscreants near Ahmedabad yesterday, the local police have beefed up surveillance in the city and tightened security measures at communally sensitive places.
PSHRC orders probe
Chandigarh, February 28
The Punjab State Human Rights Commission has taken suo motu cognisance of a news item — "Cops summon 'harassed' girl'' — published in Chandigarh Tribune on February 7 and directed the Secretary, Higher Education, Punjab, to hold an inquiry into allegations levelled against the Vice-Chancellor of the Punjabi University by a student.
Insurance policy decried
SAS Nagar, February 28
Kidney transplant recipients have decried the policy of the nationalised insurance sector for not extending the benefits of health insurance to kidney transplant recipients.
Where joy may turn into grief
SAS Nagar, February 28
A tragedy is waiting to happen at the Silvy Garden in Phase X here, with a toy-train for children malfunctioning and three paddleboats leaking.
Phone of ASP office withdrawn
SAS Nagar, February 28
The telephone connections in the Phase 1 police station and the office of the Assistant Superintendent of Police in Phase 4 here have been temporarily withdrawn by Bharat Sanchar Nigam Limited owing to pending bills for around Rs 1 lakh.