Sunday, March 3, 2002, Chandigarh, India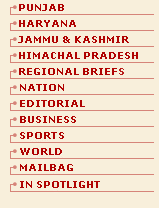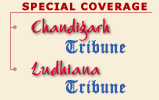 B U S I N E S S
Merged Reliance may join Fortune 500 list
New Delhi, March 2
India is likely to have its second entrant in the Fortune 500 list when the Boards of Reliance Industries and Reliance Petroleum meet in Mumbai tomorrow to merge and create a fully integrated global oil and petrochemicals behemoth.
Riots to affect economy: Sinha
New Delhi, March 2
Finance Minister Yashwant Sinha says he is upset over the disturbances in Gujarat as they will not only have a negative impact on the economy of the state but the national economy as well.
Reliance merger to increase competition for HPCL, BPCL
New Delhi, March 2
The diversified Reliance group's plans to create a Rs.600 billion oil and petrochemical giant by merging its petrochemical arm with the parent Reliance Industries is a prelude to strengthening its position ahead of India lifting petroleum marketing curbs from April 1, say analysts.


Premji tops Indian list of billionaires

New Delhi, March 2
Five Indians — Azim Premji, Dhirubhai Ambani, Kumarm-angalam Birla, Lakshmi Mittal and Shiv Nadar — have figured in the coveted Forbes list of world's top 500 billionaires.
Sinha links interest rates to inflation
March 2, 2002
More reforms for farm sector
March 1, 2002
Time to kickstart recession-hit economy
February 28, 2002
Builders plead for concessions
February 27, 2002
Remove bottlenecks: software units
February 26, 2002
Small savings rate may be cut
February 25, 2002
The countdown begins
February 24, 2002
Disinvestment of 4 more firms by March
February 23, 2002
Rail Budget to be tough
February 22, 2002
Sinha likely to present industry-friendly Budget
February 21, 2002