Method
Cottage cheese can either be lightly fried or used as it is. Heat oil in a heavy-bottomed pan, add mustard seeds, hing and one to two green chillies to it. Add onion paste when mustard seeds splutter. Fry till golden in colour. Add ginger garlic paste, red chilly powder and a little fit of turmeric power. Fry until oil leaves sides. Add a tablespoon of sour curd and fry till it gets cool. Grind mustard seeds with two green chillies and poppy seeds and make a fine paste. Add this paste to the gravy. Season with salt and sugar. Add cottage cheese and a little warm water to the gravy and let it simmer for some time. Garnish with chopped coriander.
Note: To add colour to the dish you can add green beans and zucchini to the gravy.
Steamed Hilsa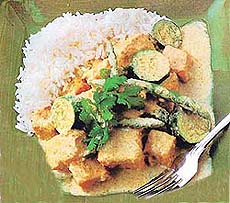 Steamed Hilsa with rice is a delectable dish

Ingredients:
Hilsa 6-8
Mustard paste 2 tbsp
Coconut ½
(Grind to a paste with sugar,
salt and 2 green chillies)
Banana leaves
Mustard oil 2 tbsp
Coriander leaves 2 tbsp
(Chopped)
Method:
Wash and pat dry fish pieces. Rub with salt, turmeric powder. Keep for 10-15 minutes. Apply mustard paste on one side of fish pieces and coconut paste on the other side. Cut banana leaves into light pieces. Grease the shiny side of leaves and place a piece of fish in it. Wrap into a neat bundle and secure with a thread. Steam these bundles over a pan of boiling water for 15 min. Open and serve hot with rice.
Egg dhokla curry
Ingredients:
Eggs 8
Baking Powder ½ tsp
Coriander Powder 1 tsp
Cummin seed powder 1 tsp
Ginger paste 1 tbsp
Turmeric powder 1 tsp
Salt and sugar to taste
Method:
Break the eggs and beat till light and fluffy. Add baking powder, salt and pepper to it. Grease a pan and pour beaten eggs into it. Place the mould in a double boiler till the egg mixture is cooked and firm. Remove from the mould and cut into square pieces. Fry these pieces till golden in hot oil.
For the gravy: Heat oil and add ginger paste and rest of the pieces to it and fry for some time. Add warm water to it and let the gravy simmer. You can add corn starch to thicken the gravy if it is not very thick.
Now add cooked egg pieces and simmer for some time. Serve hot.
Eggplant paturi
Ingredients:
Eggplant large 2
Poppy seeds 2 tsp
Yellow mustard seeds 1½ tsp
Green chillies 2
Panch phoran 1 tsp
Turmeric powder 1 tsp
Salt to taste
Oil for frying
Method:
Cut eggplant into thick, rectangular pieces. Wash and put to dry. Rub salt and turmeric powder on these. Heat oil and fry these pieces. To avoid deep frying rub a little oil on each of the pieces and cook on slow flame in a pan till crisp and golden on both sides.
Grind poppy seeds, mustard seeds along with salt, green chillies to make a fine paste. Heat 1 tbsp oil in a pan. Add panch phoran, green chillies, turmeric and chilli powder. Add one cup of warm water and pour in the mustard poppy paste. Simmer till the gravy is cooked and thick. Add eggplant pieces and simmer for some more time. Garnish with coriander leaves and serve.