Lord's earthly sojourn
It is time for religious resurgence with SABe TV going into a fresh wave of spiritual programming. Jai Shree Swaminarayan, based on the life of Leela Swaminarayan, on Sundays 8.30 a.m. is the latest in its mounting repertoire of religious epics.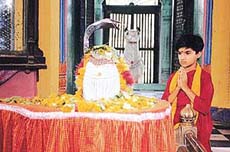 Jai Shree Swaminarayan: Saving mankind


Set in the 18th century, it is an era of anarchy in India with no governance, no justice, no peace and no law and order. Women were kept illiterate and submissive. The sword ruled and he who wielded it was the ruler. A samrajya for sinners and Kalyuga for the common man.
Deeply disturbed at the decay in moral and religious values, a group of mahatmas and rishis, including Dharma and Bhakti, approach Bhagwan Shree Narayan to remind him about his promise to deliver mankind from evil.
The story begins with Shree Swaminarayan emerging from Akshardham, his divine abode, and re-incarnating himself as Narnarayan who comes to earth to preach the message of non-violence and brotherhood.
An engrossing show for those with a religious bent of mind, since it is a tale of a lesser-known lord whose appeal is nonetheless universal.
Women on their mind
Ladies, this one's exclusively for you. Worried about the influence a pretty secretary wields over your husband? Do not know how to cope with a troublesome mom-in-law? More seriously, is your husband or his family forcing you to abort a female foetus?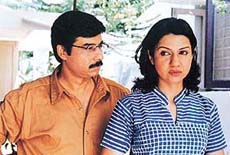 A scene from Kashmakash
If the answer is yes, you neither have to go to a psychologist nor have to write long letters to a grievances column. You can now unburden yourself and get professional advice on Kashmakash, every Friday at 4 p.m. on Star Plus.
The talk show directed by Sathya Saran, tackles issues which concern today's women. Most of the issues are derived from the numerous letters and personal interactions that Saran has had with women in the course of her editing a women's fortnightly.
Renuka Shahane plays the perfect host as she discusses these issues with experts who suggest how best to deal with vexing situations. Interestingly, very few viewers know that Shahane has a degree in clinical psychology and is well equipped to deal with the myriad of problems faced by the common Indian woman. So, ladies, you are in safe hands!
Perfect 10 for Kkusum
It's the K word again. No, not from across the border but from Mumbai. Sony Entertainment Television has begun 'K-onsolidating' its prime time position — 9 to 10 p.m. — as some of its top-rated shows hit the high notes.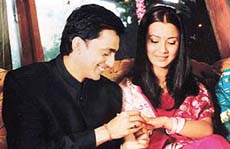 Kkusum: Peaking in 2002
The year started off propitiously for the channel as Kkusum and Kutumb have peaked at all-time high ratings in January 2002.
An extraordinary story of an ordinary girl, Kkusum, Monday to Friday 9 p.m., say the Sony bosses, has struck a deep chord from its very first episode, and there seems to be no sign of ennui as the popularity of the show continues to intensify.
Shadowing Kkusum is Kutumb Monday through Thursday at 9.30 p.m. which is another soap from the Balaji's bag of tales. This fiery saga of a couple who marry for the sake of revenge is keeping viewers glued to their small screens.
Kkusum peaked at an all time high TVR of 10.2 for week ending February 2, 2002 across all cable and satellite audiences while Kutumb notched up a robust TVR of 8.3 in the same period.
So keep watching there's more excitement in store at Sony as it prepares to come up with more new shows.
Oscar fever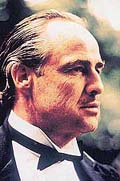 Marlon Brando in The Godfather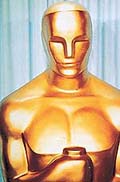 2002 Oscars...Movie magic.

It's Oscar time again and movie channels are bringing the excitement of this all-important Hollywood event to the viewers. Star Movies will air the action live from the 74th Annual Academy Awards on March 25 at 6.30 a.m. and a repeat at 9.30 p.m.
As a build-up, both Star Movies and HBO are featuring Hollywood blockbusters and classics which have won the Oscars in the past. Catch these Oscar winning or nominated movies like The Godfather, Amargeddon, Forrest Gump and Life Is Beautiful from March 1 to 24 in the late prime time slot on Star Movies.
The other movie channel HBO too is presenting an Oscar Marathon from March 1 to 22 Mondays to Fridays at 9.30 p.m. with films like The Ten Commandments, Spartacus, JFK, Jaws, Top Gun, The Untouchables and more.
But the real interest will be in this year's ceremony and the 30-minute procession of the stars as they walk down the famous red carpet. See for yourself who will win the most coveted honour in the entertainment world.
For the third time Whoopi Goldberg will be anchoring and the awards will be given away by, among others, last year's Best Actor Russel Crowe and Best Actress Julia Roberts.
So join fans from over 100 countries and tune in to Star Movies to make Hollywood's biggest night the most-watched awards show on this planet.
On the horns of dilemma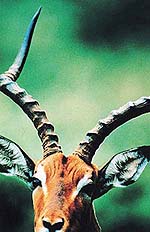 Horns over Africa: The great survivors



With names like nyala, oryx and kudu, they are some of the lesser-known animals roaming the plains of Africa. Most African wildlife films focus on the great hunters of the plains — lions, leopards and cheetahs. But this large family of animals, without which the predators can't exist, appears more often on the menu than the cast list.
Discovery Channel gives the family members due credit with Horns Over Africa, March 13 at 7 p.m. The show provides intimate portraits of various antelope and gazelles of Africa and reveals the function of their horns for defence in a world of hungry predators.
The bovid family whose name means "children of the ox", includes buffaloes, antelopes and gazelles that roam the plains. The secret to their success is not their horns, but simply their ability to feed on grass — an abundant food, but one that is hard to digest.
So while at first glance it is easy to assume that the hunters are the winners, a close look reveals just how fragile their existence is. In their mass migrations over the widest variety of habitats, the buffaloes emerge as the true champions.
— Mukesh Khosla