Sunday, March 3, 2002

Sunday Activity
Making non-stick pans stick around
A new set of non-stick cookware is a boon for any housewife as it means a goodbye to all those grease-stained kadais and pans stuck with food deposits. Moreover, it is best suited for low-fat cooking as dishes cooked in non-stick pans require less oil. But this boon can turn into a bane if its non-stick surface begins to wear off or stubborn stains form on it. To ensure that your non-stick pans retain their pride of place on your kitchen shelves, it is best to devote a weekend to rid them of any stains or grime that has got deposited on them.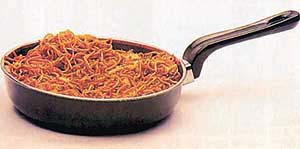 To put them to optimum use, it is important to understand the basic characteristic of the non-stick coating, known as teflon.Teflon is a plastic fluorocarbon in resin applied to surfaces (usually metal) under very high heat to form a non-stick coating. It is marketed under several brand names. It is harder and more durable as a coating on utensils and other surfaces.
Condition new pans
Condition new pans by wiping with shortening before the first use. Do not use metal/steel stirring spoons or forks. Do not cut with knives, etc, in pans. Do not use any abrasives, scouring powders, metal pads, etc. Donít overheat.
Wash promptly after use with hot, sudsy water, to avoid staining. Avoid soaking overnight. The teflon finish is not harmed by dishwasher washing, but outside surfaces of some utensils may be damaged, so follow label instructions for each utensil. Remove stubborn spots with a plastic mesh pad.
Staining occurs from charring of food grease residues in the pan. Dark, widespread staining, the result of overheating and incomplete cleaning, may lessen the effectiveness of the non-stick property.