These docs swear by spiritual healing
Meghowal Guru ka (Hoshiarpur)
Spiritual faith can cure diseases generally considered to by incurable. These are the views of Norway-based spiritual healer Dr Bjrog Neverdal, who was here to participate in a spiritual healing camp organised by Dr K.D.S. Kalsi, a Jalandhar-based healer.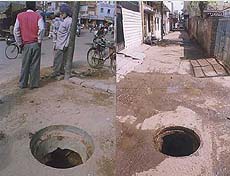 Open manholes in Bathinda, endangering residents. Covers are reportedly stolen by youths to get money for drugs. — Photo by Kulbir Beera.
Plea to issue appointment letters
Mansa, March 3
Hundreds of candidates selected by the Subordinate Services Selection Board, Punjab, for appointment as clerks have still not been issued appointment letters although the selection list was released on May 26.
Bajrang Dal warns Centre on Ayodhya
Jalandhar, March 3
The Bajrang Dal today warned the Union Government of dire consequences in case it continued to raise obstructions in way of proposed construction of Ram Temple scheduled to begin by March 15 at the disputed site in Ayodhya.
Badal concerned over communal flare-up
Mannikhera (Muktsar) March 3
Former Chief Minister and Shiromani Akali Dal (SAD) supremo Parkash Singh Badal yesterday expressed concern over the communal flare-up in Gujarat and in parts of UP, saying that this appeared to be the handiwork of Pakistan's ISI.
MASR: prosecute Gujarat CM
Chandigarh, March 3
The Movement Against State Repression (MASR) and the Punjab Human Rights Organisation in a joint statement today demanded that those guilty of the Gujarat violence must be punished and the Chief Minister prosecuted for his alleged wilful negligence of duty and abetment to genocide.


Lok adalats popular: judge
Amritsar, March 3
Mr Justice H.S. Bedi, Judge, Punjab and Haryana High Court, and Chairman, Punjab State Legal Services Authority, today claimed that the response to lok adalats during the past two years had been phenomenal.


Mr Justice H.S. Bedi of the Punjab and Haryana High Court at a lok adalat in Amritsar on Sunday.
Plea to hike old-age pension
Sangrur, March 3
A resolution adopted by a large number of people, who gathered at Kanjhla village today, urged the Punjab Government to enhance the monthly old-age pension and other pensions provided by the Punjab Social Security Department from the existing Rs 200 per month to Rs 500 per month.
SGPC orders probe into embezzlement of college funds
Amritsar, March 3
Shiromani Gurdwara Parbandhak Committee (SGPC) president Kirpal Singh Badungar has directed the institution's executive member and advocate Mohinder Singh Romana to hold an inquiry into the allegations of embezzlement of funds which were meant for SGPC-run Mata Sahib Kaur Khalsa College at Dandewali in Jalandhar district.
Thermal plant staff to hold rally
Bathinda, March 3
Employees of the local Guru Nanak Dev Thermal Plant will hold a rally on March 5 to show resentment against the alleged anti-employee Budget presented by the Union Finance Minister for the year 2002-03.
Municipal council losing revenue
Muktsar, March 3
Mr Sham Lal Goyal, district president of the National Consumer Awareness Group, has alleged that residents of the city have not been allotted house and ward numbers for the past many years and that no proper demarcation of municipal limits have been done by the municipal authorities, which cause many problems to residents.
De-addiction camp held
Nathana (Bathinda), March 3
Dr Mehboob Singh Sra, Director, District De-addiction Centre, Bathinda, while inaugurating a drug de-addiction awareness seminar here last evening, said parents could play a vital role in helping their children quit drugs.
Rice millers accused of misusing paddy
Faridkot, March 3
The District Food and Supplies Department, Muktsar, has recommended to the Deputy Commissioner of the area registration of police cases against 13 rice millers in different parts of the district on the charge of misappropriating government paddy worth more than Rs 10 crore in the recent past.


Closure of roadways' div offices resented
Fazilka, March 3
Resentment prevails among 350 employees of the Punjab Roadways as the Badal regime has decided to wind up its divisional offices at Ferozepore, Jalandhar and Chandigarh from February 28.

Paper outside syllabus?
Patiala, March 3
Students of class eight who, appeared for the computer science paper of the Punjab School Education Board on Sunday complained that nearly half of the paper comprised of portions which the Board itself had said it would not consider for setting of the paper.