Oppn gunning for Advani, Modi
New Delhi, March 11
The Lok Sabha today began a debate on the Gujarat situation with the Opposition led by the Congress demanding the resignation of Home Minister L.K. Advani and the sacking of Gujarat Chief Minister Narendra Modi.


In video (28k, 56k)
India rejects Pak extradition treaty offer
New Delhi, March 11
India today dismissed Pakistan's offer to have an extradition treaty as "yet another delaying tactic" on the Indian list of 20 fugitives. New Delhi also rejected Islamabad's another proposal for signing an agreement to the effect that the two neighbours do not use their territories for cross-border terrorist activities against each other.
In Education Tribune today

THE TRIBUNE MAGAZINES
On Mondays

On Sundays
On Saturdays

IN PASSING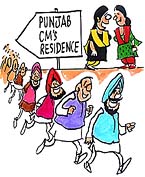 They have gone to greet Captain Amarinder for his 61st birthday and not the Indian Cricket Captain!

by Sandeep Joshi
2nd stage of US war against terrorism
Washington, March 11
US President George W. Bush today declared that the international coalition had entered its "second stage" of the war against terrorism covering battles beyond Afghanistan and asked the countries to take seriously growing threat of terror on a catastrophic scale if nuclear weapons reached "wrong hands."
President Bush speaks at the White House on Monday during a ceremony marking six months since September 11. — Reuters photo
Another girl points finger at VC
Patiala, March 11
Close on the heels of being booked for making lewd gestures at a student, fresh allegations have cropped up against the Punjabi University Vice-Chancellor, Dr Jasbir Singh Ahluwalia, with another girl today claiming that she was pressured to visit the VC's residence in order to "concentrate" on the topic of her research.
Record transfers in 14 days
Chandigarh, March 11
The Punjab Government is on its way to setting a new record — of issuing a record number of transfers and postings of Class I officers in the shortest span of time. In the past 11 days, it has shifted 220-odd senior functionaries of the state, including IAS , IPS and PPS officers. Besides it has ordered six promotions in the IAS and five of the IPS officers in the Police Department.
CRPF flag march in Ayodhya
March 11, 2002

Advani spells out terms for talks with Pak
March 10, 2002

Godhra moves all-party team
March 9, 2002

VHP to abide by court verdict
March 8, 2002

Governor recommends Central rule in UP
March 7, 2002

Kanchi seer's formula on temple accepted
March 6, 2002

VHP adamant on plan
March 5, 2002

Gujarat toll mounts to 450
March 4, 2002

49 more burnt alive, toll 400
March 3, 2002

Army stages flag march, riot toll 200
March 2, 2002

Sinha hits salaried class the hardest
March 1, 2002