Entering through the main door of the palace, it is plain that an expert interior designer has been at work. We discover that this is no other than Dalip Singh's charming wife, Madhu. Here at this old fortress she has managed to create the most attractive and authentic decor by using the indigenous crafts of the region. The entry to the main lounge is through traditional arched doors, with coloured glasspanes. The sunlight filtering in through the panes lights up the interior in rainbow colours. Old carved furniture, traditional Rajasthani textiles and coloured glass chandeliers create a special old world charm.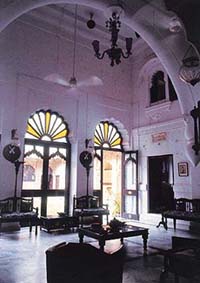 The lounge has an old-world charm
The bedrooms are even more innovative. Here, a part of the rooms have been blocked off with low walls to create toilets. The ceilings of these, are appliqued canopies sloping down from the main wall. The bedcovers follow the same appliqued designs, and the colour combinations and designs are typically Rajasthani — red and yellow, maroon and black, or the popular yellow and red on a white ground. All the rooms have matching cushion covers and durries woven at Salawas — the centre for durree making, made famous in recent years by Shyam Ahuja.
With the interest in heritage properties rising steadily every year, Dalip Singh has recovered his initial small investment of Rs 4 lakh many times over. According to him, his main expenditure had been the plumbing fixtures. The exquisitely furnished double rooms and the one room on the upper floor which has been converted into a suite, are full almost the year round. With stone stairways and traditional arched niches on the wall, all of which have been left in the original state, the Fort has a wonderfully unspoilt look — exactly as one imagines a Fort would look, set in a somewhat remote village in Rajasthan.
Luni however is barely a forty -minute drive from Jodhpur, and is a busy and bustling place with metal workers, potters, fabric weavers and printers — all working at their traditional crafts. The solid walls of the fortress are unable to shut out the sounds and noises, the hustle and bustle of village life, as it rises to a crescendo at dusk and then all is quiet as night descends on the desert. From the fortress towers, the entire village can be seen in all its different moods — bustling and busy by day and quiet and peaceful by night.
Fort Chanwa is for all those who hanker for a chance to get away from their urban lives, and to relive the romance and grace of a life now extinct. If you are one of these, then all you need to do is to follow the meandering River Luni to Fort Chanwa — a great getaway!