Been there seen all!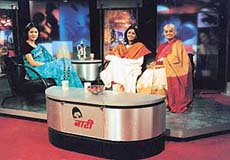 Nari on ETV: A sense of deja vu.
If you are an inveterate channel surfer, here's new channel to keep you occupied. Eanadu Television [ETV] which recently launched four regional channels for the entire Hindi belt of Uttar Pradesh, Bihar, Madhya Pradesh, Rajasthan, Uttaranchal, Jharkhand and Chhattisgarh.
The channel — one of the biggest down South, especially in Telugu — has come up with new programming. One of the highlights of the new channel is Nari, a women-oriented daily series being aired at 10 a.m. on ETV Hindi. The show is being hosted by Aanchal and will have women guests like the sarpanch of a village or a health worker who talk about their real life experiences and difficulties that they face in their day-to-day work. The show will invite well-known personalities who will try and find solutions for their problems.
But, Nari is not just about fighting gender bias. It will have a special segment dedicated to fashion, beauty and cookery. In a way a complete women's magazine. But then, what's so innovative about the show? Every channel has a similar show dedicated to women which does not confine itself to problem-solving but also has sections on cookery, fashion and beauty.
ETV would have to do a lot more to come up trumps in this fiercely competitive Hindi segment of viewership.
Laugh-a-minute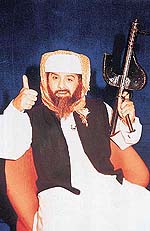 Saajid in Sab Chalta Hai: Laugh time.
In the post-Movers & Shakers scenario, he's fast raising smart banter into an art form. His jibes cut across the board and he's no respecter of star status. Whether imitating a visibly inebriated Feroz Khan at an award night or graphically describing Urmila Matondkar's legs in a song sequence, Saajid Khan is the master of the ad-lib.
Now here's Saajid in a different setting. Sab Chalta Hai on Sabe TV is not a full-fledged show but is a one-minute stand-up comedy aired every hour, each day of the week with contemporary issues.
The fillers have Saajid spoofing different characters from real life. From our desi actors to sportspeople and from politicians to terrorists, he impersonates everyone including the likes of General Pervez Musharraf, Atal Behari Vajpayee, Osama bin Laden, Dev Anand, Subhash Ghai, Sachin Tendulkar and, of course, the common man.
The one-minute filler perfected long back by Jaspal Bhatti in Ulta-Pulta for Doordarshan has now got a fresh face. It now remains to be seen if Saajid Khan's quirky sense of humour matches up to that of Bhatti.
Shweta's show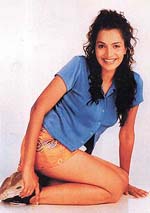 Shweta Kwatra... An anchor now
Move over Deeptie Bhatnagar, Shweta Kwatra is here. Shweta who? Don't worry, you are not the only one who's not familiar with that name. But things are changing fast for this young lady who plays Eesha in Kkusum.
Shweta has now replaced Deepti Bhatnagar as an anchor in Current Bollywood on Max TV every Wednesday at 8 p.m. "It's a dream come true. I don't have to act here. It's the real me that viewers see week after week. The show is very filmi and right up my line," says Shweta who compares her show to Biographies anchored by Om Puri and Caravan by Rajeshwari.
The young lady says she's an accidental actress. After doing numerous ramp shows in Delhi for big names like Hemant Trivedi and Lubna Adams, she came to Mumbai with dreams in her eyes. And she instantly hit it big with a lead offer in Kahani Ghar Ghar Ki followed by Kkusum.
"Since both are aired every weekday, I really didn't have the time to do another daily. So when this weekly anchoring offer came my way, I grabbed it with both my hands," says Shweta about the show that brings the big screen on to the small screen.
So, if you are tired of seeing the bitchy side of this petite actress then look out for entirely new Shweta — make-up and attitude — in Current Bollywood. It would be hard to believe she's the same person.
Magnificent obsession
From Kasturba of Gandhi to Vimla Pandey of Mahayagya from a Hindustani classical singer in Yeh Kahaan Aa Gaye Hum, to a committed social worker in Imtehaan or even the unlettered and harassed Sakkubai in Hindustani she melts into every character she plays.
In the past two decades Rohini Hattangady has travelled a long way. She has done a variety of roles with such commendable finesse that it has earned her a reputation of an actress par excellence even in the commercially-driven showbiz.
Today, she is an accomplished three-in-one star of theatre, films and television. Though these days it is television that is keeping the actress so completely submerged that she sometimes has a three-shift day. Surprising for an artist of the small screen but not so surprising for Rohini.
After making her name in films in varied roles she has gradually moved to TV, where she's became one of the most sought after mothers in Hindi soaps. Apart from that she is also acting in host of other shows like Alpha Marathi's Char Divas Sasoo Che and a comedy on the same channel, Chala Banoo Yaa Roadpathi, a spoof on the numerous game shows.
But Rohini's real love has always been theatre, from where she started her career and she keeps going back to it whenever she has the time. She still has the star power to pull theatre lovers to the auditoriums. Her two current plays Aparajita and Wadia Bhavani Aai Cha are running to packed houses all over Maharashtra.
But despite doing so many things, Rohini feels that the roles she's offered are unidimensional. "Playing a mother over and over again can be boring. Storywriters should think something different. I'd love to do a role where I can show my versatility." But like Kasturba in Gandhi, Rohini in real life also exudes an aura of serene satisfaction with her lot in life and her work. She's still the same lady who took to acting for the love of acting and not for the glamour. A lifetime devoted to an obsession — to excel as an actress.
Gentle giants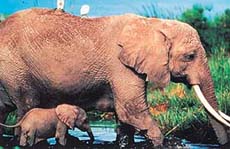 Learning about elephants on Animal Planet
For 30 years, Cynthia Moss has been studying elephants in Kenya. Her deep understanding of their behaviour, coupled with stunning photography by award-winning cameraman Martyn Colbeck, are responsible for this stunning Natural World: Africa's Forgotten Elephants premiering March 25 at 10 p.m. on Animal Planet. This is the final programme of the trilogy that included Echo of the Elephants and The Next Generation.
Catch up with Cynthia Moss at the Amboseli National Park in Kenya and embark on a new search for other elephants living in Africa's vast and varied landscape. Despite their slow-moving image elephants are extremely adaptable and can survive hostile conditions. In Central Africa smaller elephants thrive in the rainforest. On the remote Skeleton Coast, some of Africa's biggest elephants travel 90 kilometres over scorching sand in search of food and water. Along the Atlantic coast of Gabon, elephants use their trunks as snorkels to cross mangrove lagoons.
Using her knowledge of elephant behaviour in Amboseli, Cynthia Moss seeks out these different sub-species of African elephants to learn about their unique methods of survival, social interaction and feeding. Viewers also learn interesting facts about each group of elephants, like how some of their footprints were found 4.8 kilometres up Mount Kenya. So here's your opportunity to reconnect with the gentle pachyderm as it sets out in search of a livelihood.
— Mukesh Khosla