Double trouble
It's a cliched story of twins but with a twist in the tail. Hubahu on Thursdays at 8.30 p.m. on Sony Entertainment Television revolves around identical twins, though that's where the similarity ends, for they could not have been more different.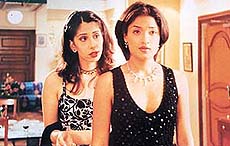 Hubahu: When two is not company
Restrained and rational, Aditi is married to Professor Dilip Kaul and has a 9-year-old son. But beneath the contended exterior she is a different person who desperately wants to be rich. Her twin Ananya is rich and single and lives in Bangkok. She is an art dealer, with a list of rich and the famous clients from all over the world. She's rich but not happy.
The twins catch up with each other and confess how unhappy they are with their lives. They decide to trade places. Aditi moves from her staid housewife routine to join the party set in Bangkok. Ananya moves to Aditi's house and starts playing mother and house-maker.
The planned swap works well for a week, and then fate steps in and the two discover that the grass is not always greener on the other side.
Despite being a hackneyed storyline, Hubahu has its strengths. Shot mostly in Bangkok, it is fast paced and has slick production values. Sandhya Mridul Singh's absorbing performance in the double role of Aditi and Ananya keeps viewers hooked. Definitely worth watching.
Reality bytes
In the first of its kind of programming, Sahara TV is airing special episodes of Haqeeqat, Tuesdays 8.30 p.m., based on real life incidents of human rights violation. Anchored by Mahesh Bhatt, the show provides viewers a direct platform to put across their story in a dramatised format.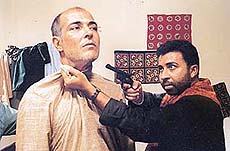 Haqeeqat: Real life agony
Calling it the 'real reality show', Bhatt says, "At times we have to resort to dramatisation to highlight some brutal human rights violations. But the incidents are all true and the advice is for real." The subjects discussed include cases of child abuse, domestic violence, custodial and dowry deaths, rape and torture, immoral trafficking and many more.
Some time back, the channel elicited viewer feedback promising to run special episodes based on the short-listed true incidents. The response has been so phenomenal that it has been hard put to select stories from the thousands pouring in daily.
Says Imtiaz Barolia, the channel's commissioning editor: "The idea was to make the show more interactive and have as much supporting documentary evidence for the dramatised version as provided by viewers."
The March 5 episode, for example, showcased the true-life story of a Rajasthan viewer whose family members were traumatised after they tried to stop anti-social elements from outraging the modesty of a girl who had come to their small shop. The show re-enacted the terror of the family facing the wrath of goons and the apathy of law enforcers.
Though the show may be gory in content, it provides a strong social platform for viewers to vent their feeling and is also resulting in ruining some flourishing criminal careers.
Heavyweight encounters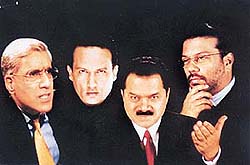 Thapar, Suman, Reghuvanshi & Sanghvi in Current Affairs Band: Casting Coup

This indeed is week of smaller channels. If Sahara has stolen a march over bigger channels, SABe TV is not far behind. In a coup of sort, it has roped in not one but four stalwarts for its Current Affairs Band at 10.30 p.m. Monday to Friday.
The band brings together Shekhar Suman, Karan Thapar, Vir Sanghvi and Manoj Raghuvanshi who will hold discussions on a wide array of topics ranging from social and political issues to arts, science and commerce. The anchors would invite celebrities who will talk of their respective fields of specialisation.
Karan Thapar will analyse controversial political and socio-political issues in the Line of Fire on Monday. On Tuesdays, Vir Sanghvi will get upclose and personal with a celebrity the Meeting of Minds.
On Wednesdays, Shekhar Suman will don a new avatar as a witty and inquisitive talk show host in Aap Aur Main. Thapar appears again on Thursday in Court Martial where he interrogates, grills and aspires to get to the root of the matter with his guest. On Fridays, Manoj Raghuvanshi invites the common man to witness to a heated debate between two stalwarts with totally opposing views in Khulla Manch.
So get set for some fireworks as SABe TV begins airing its most ambitious — and perhaps its most expensive — show ever.
Immortal voice
There's nothing even remotely seventyish about her voice. In fact, ever since the fifties she has sung for top heroines generation after generation. And even today when it comes to background scores for young barely-out-of-their-teens heroines, Asha Bhonsle is the choice of most Bollywood music directors.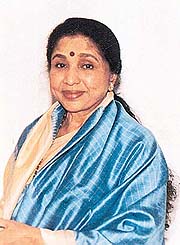 Asha Bhosle: Vintage album
In a rare tribute Star Gold and Saregama have brought out a double pack of CDs and cassettes, Asha Bhosle's Safar —A Journey that chronicle this amazing artiste's inspirational and astonishing journey from Aiyee meherban (Howrah Bridge) to Kambakht Ishq (Pyar Tune Kya Kiya), a five-decade musical voyage.
The first album traces her vintage songs in the fifties and sixties. Some of the unforgettable melodies include Koi aaya dhadkan kahti hai (Lajwanti), Haule haule haule chalo mere sajna (Sawan Ki Ghata), Aage bhi jane na tu (Waqt), Jaiye aap kahan jayange (Mere Sanam), Jhoomka gira re (Mera Saaya) and many more.
The second album follows Asha Bhonsle's rising career, from the seventies to the present day with some of her very popular numbers like, Piya tu ab to aaja (Carawan), Le gayi le gayi (Dil To Pagal Hai), Dil cheez kya hai (Umrao Jaan), Chain se humko kabhi (Pran Jaye Par Vachan Na Jaye) and more
The double musical bonanza comes after the Star Gold's five earlier albums — Paan Khaya Saiyyan hamara (folk songs), Lag Ja Gale (romantic numbers), Pyaar Deewana Hotaa Hai (Rajesh Khanna's songs), Pyar Mastana Hota Hai (Shammi Kapoor's songs) and Mohabbatein (immortal love songs). But without doubt this is the best of the lot. So grab it before it vanishes from the shop shelves.
Dream merchants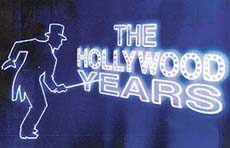 The Hollywood Years: Movie magic
If you've been waiting patiently for March 24 to happen, here's something to keep you mesmerised even much after that big Oscar night. BBC World pays a special tribute to the stars and films that have made Hollywood a dream factory for over eight decades.
The Hollywood Years features some of the most in-depth documentaries on people, places and events associated with motion pictures. The series examines the highs and lows in the careers of legends like Alfred Hitchcock, John Wayne, Frank Sinatra, Julie Andrews and Lee Stasbourg.
Documentaries like LA Stories, Rat Pack, John Wayne — The Unquiet American, The Hitch (Alfred Hitchcock) and Beverly Pills can all be seen on BBC World, on every Saturday at 2.40 p.m. The documentaries have been researched by Tom Brook, a respected name in Hollywood reporting.
So, get ready for a dose of highly entertaining look into the lives of those celebrities whom you have seen on the silver screen. Also take a peep at the industry and the people working in it, which for years has been selling dreams to countless people the world over.
— Mukesh Khosla