Omar may not be extradited: Pak
Washington, March 27
Pakistan has said Sheikh Omar Saeed, prime accused in the abduction of American journalist Daniel Pearl, may be convicted and executed in the country.
India to get new Mirage fighters
London, March 27
In a bid to enhance its strike and nuclear-deterrence capabilities, India plans to acquire 126 Mirage 2000-5 multi-role fighter aircraft, a leading defence weekly reported today.
SAD MLA Keetu arrested
Barnala, March 27
Mr Malkiat Singh Keetu, the SAD MLA booked by the Bhadaur police for alleged misappropriation of funds of the Truck Operators Union, Bhadaur, was arrested today.
In Science Tribune today

THE TRIBUNE MAGAZINES
On Mondays

On Sundays
On Saturdays

IN PASSING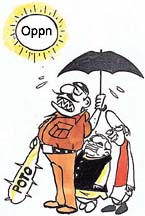 by Sandeep Joshi
Sidhu remanded till March 31
Search warrant issued
Kharar, March 27
Mr Roshan Lal Chouhan, Judicial Magistrate, here today remanded Ravinder Pal Singh Sidhu, PPSC Chairman, in police custody till March 31.
Ghulam Nabi Azad J-K Cong chief
Jammu, March 27
After about two years dissidents in the state unit of the Congress have won their battle against the PCC chief, Mohammad Shai Qureshi. The AICC President, Ms Sonia Gandhi, today decided to install Mr Ghulam Nabi Azad as new PCC President in place of Mr Qureshi.
Fine Arts Dept head held
Saru Rana case
Patiala, March 27
The police today arrested Punjabi University Fine Arts Department's Head Dr Saroj Rani and technical assistant Jaspal Singh for alleged attempt of rape case registered against varsity's Vice-Chancellor Dr Jasbir Singh Ahluwalia, by Fine Arts girl student Saru Rana.


Cops under trial to get due promotions
CM announces sops for police personnel
Phillaur , March 27
Announcing a number of welfare schemes for Punjab Police personnel, including free bus travel, monetary benefits equivalent to defence personnel, special grants for the marriage of their daughters among others the Punjab Chief Minister, Capt. Amarinder Singh, today announced here that Sikh detainees languishing in jails for the past more than a decade without any trial would be tried and their cases decided at the earliest.
Joint session okays POTO
March 27, 2002

Yasin Malik held under POTO
March 26, 2002

NHRC indicts Gujarat Government
March 25, 2002

PDS price for APL families cut
March 24, 2002

Govt not to deviate from NDA agenda
March 23, 2002

POTO Bill defeated in RS
March 22, 2002

Ceiling on RBI Relief Bonds goes
March 21, 2002

Sekhon forced to retire
March 20, 2002

PM vows fair poll in J&K
March 19, 2002

Godhra carnage mastermind held
March 18, 2002