Monday, April 1, 2002, Chandigarh, India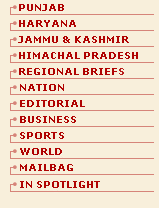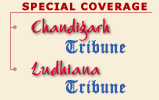 B U S I N E S S
Y O U R M O N E Y
A GUIDE TO PERSONAL FINANCE
Investor grievances & procedure for redress
Non receipt of share, debenture, bond certificate, refund order, dividend etc are some of the general complaints from investors. Redressal of complaints is easy if they are properly handled. We give below a few guidelines in this regard.


Bicycle market still untapped


LUDHIANA: When other bicycle and parts' manufacturers here are shifting to auto and other sectors, Mr Satish Kumar Dhanda, a name in bicycle industry, is trying to explore the untapped markets by producing high-quality and low priced bicycles. He is known for his intensive knowledge of domestic and foreign markets, and ability to convince the policy makers with down to earth knowledge.


Market loses ground on year-end considerations
Liquidation of positions by traders ahead of the end of the fiscal year and concerns that technology companies may come out with conservative guidance for the new financial year when they announce that fourth quarter results, dogged the bourses last week.


Debar advocates from arguing before consumer courts
In round one, the lawyers have won and the consumers have lost. What happens in round two depends on the lobbying power of consumers and consumer groups.


Tax deductions
Q: I am a retired employee. My date of birth is May 10, 1936. So I became senior citizen in May, 2001. My pension during the assessment year 2001-2002 is Rs 85,112. I am earning an interest of Rs 26,520 annually from the monthly deposit scheme of post office.


Tyre puncture
Ad dampener
Disinvestment jitters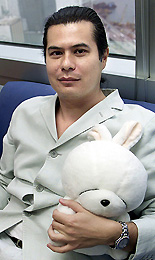 Karl Taro Greenfeld, the newly appointed Editor of the Asian edition of Time magazine, poses with a toy bunny at his Hong Kong office. With his pony tail, trendy clothes and candour about former drug abuse, the 37-year-old Greenfeld, who was born in Kobe, Japan, and grew up in Los Angeles, may appear more at home in New York's wild and varied media set than in button-up Asia. The photo taken on March 29, 2002. — Reuters

BSNL notifies lower STD and ISD rates
March 31, 2002
Economic growth in Q3 up at 6.3 pc
March 29, 2002
Announcement on IOC, RPL marketing deal likely today
March 28, 2002
IOC calls for cut in duties on petro products
March 27, 2002
Reliance to market petro products direct
March 26, 2002
All about health insurance
March 25, 2002
Farooq seeks investors' help to develop J&K
March 24, 2002
6 infrastructure sectors show signs of revival
March 23, 2002
RBI plans to set up gold exchange
March 22, 2002
Blending of ethanol with petrol okayed
March 21, 2002