Tuesday, April 2, 2002, Chandigarh, India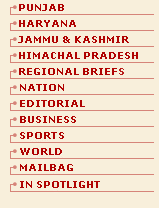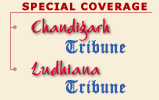 H A R Y A N A
5 roadways depots to be privatised
Hisar, April 1
The Haryana Government is considering a plan to privatise roadways depots of Hisar, Sirsa, Fatehabad, Bhiwani and Narnaul districts. This was stated by Transport Minister, Mr Ashok Arora, while addressing mediapersons here today.
Break wheat-rice pattern, farmers told
Ambala, April 1
A large number of farmers and unemployed rural youth participated in farmers-training camps organised by the Krishi Vigyan Kendra of Ch Charan Singh Haryana Agricultural University in Fazailpur, Tandwal, Sambalkha and Sherpur villages.
Shortage of storage space worries farmers
Ambala, April 1
Farmers and grain dealers of new Anaj Mandi have expressed their concern over the storage of wheat in one of the major sheds of the grain market in which a procurement agency has stored one lakh bags of grain.
Farmers worried over MSP
Bhiwani, April 1
Farmers of south Haryana are worried over undecided MSP of sarson as also problems owing to the procurement and maintenance of the produce. They are forced to sell their produce at cheap rates to millers and traders.
Doc booked for rape
Fatehabad, April 1
The police today booked a Hisar-based doctor for allegedly raping a Dalit woman near Rattia in the district. According to police sources, the victim, a resident of Budhlada in Mansa district, was suffering from some mental ailment and was under treatment of the accused doctor, who has a clinic at Dabra Chowk in Hisar.
Centre under WB pressure: Surjewala
April 1, 2002
Chautala writes to PM
March 31, 2002
Rice dispute in Haryana
March 29, 2002
Order in Bansi Lal case a trendsetter
March 28, 2002
190 cr earmarked for beautification
March 27, 2002
Proposal to abolish 59 posts of Patwari
March 26, 2002
Country's security system not foolproof: Fernandes
March 25, 2002
Temple tents uprooted, 3 booked
March 24, 2002
CM promises 2 more sugar mills
March 23, 2002
Haryana BJP meets PM on Loharu riots
March 22, 2002