Wednesday, April 3, 2002, Chandigarh, India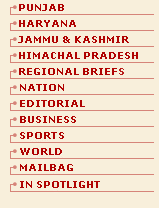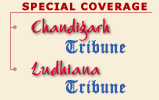 H I M A C H A L P R A D E S H
HC stays Registrar's order on Coop Bank chief
Shimla, April 2
The Himachal Pradesh High Court today stayed the implementation and operation of order passed by the Registrar, Co-operative Societies for revoking the suspension of Mr K.K. Kaushal as the Chairman of the Himachal Pradesh State Co-operative Bank. The court also stayed the order of the Registrar to drop charges against Mr Kaushal.
Work on Uhl hydel project to start soon
Mandi, April 2
The Himachal Vidhan Sabha Speaker, Thakur Gulab Singh, said today that work on the Rs 478.74 crore 100 mw Uhl hydro electric project, stage III, would start during the current financial year and Rs 15 crore had been provided for it in the Budget and more money would be made available depending on the progress of the work.
HPU departments sans facilities
Shimla, April 2
Even as Himachal Pradesh University (HPU) has been introducing new courses almost every year, several of its departments lack basic facilities. Some departments are without proper infrastructure and accommodation facilities. Many posts are also lying vacant in these departments.
Lecturers upset at 'raw' treatment
Hamirpur, April 2
Members of the HP School Lecturers Association are highly upset over the failure of the state government to listen to their sad plight and for giving a raw treatment to them.
Medical students resent fee hike
Dharamsala, April 2
Resenting the hike in tuition fee, students of Dr Rajendra Prasad Medical College have demanded that they should be charged the fee on a par with their counterparts at Indira Gandhi Medical College (IGMC), Shimla.
House damaged in blast
Kangra, April 2
A house was damaged in a blast at Sunehar village on the Pathankot-Mandi national highway in the subdivision at 1.30 a.m. today.
Hoteliers rue 'govt apathy'
April 2, 2002
HP to have IT varsity in private sector
April 1, 2002
Mammoth gathering at Hola Mohalla
March 31, 2002
CAG objects to HP Govt action
March 29, 2002
Suresh Bhardwaj elected to Rajya Sabha
March 28, 2002
Oppn grills Transport Minister
March 27, 2002
Support POTO, Vajpayee urges Congress
March 26, 2002
PM leaves Dhumal high and dry on package
March 25, 2002
Dhumal govt blamed for fiscal mess
March 24, 2002
Tight security for PM's visit
March 23, 2002
HP 'not expecting' package from PM
March 22, 2002
Budget pro-poor, says Dhumal
March 21, 2002