US negotiator meets Yasser Arafat
Ramallah, West Bank, April 5
Renewing truce efforts, a US envoy today met with Mr Yasser Arafat at the Palestinian leader's besieged compound. US envoy Anthony Zinni became the first official permitted to meet with Mr Arafat.


Palestinian President Yasser Arafat (left) talks to US envoy Anthony Zinni at his Ramallah headquarters on Friday. — Reuters photo
| | |
| --- | --- |
| | PHOTOS — funeral pageantry of Britain's Queen Mother |
THE TRIBUNE MAGAZINES
On Mondays

On Sundays
On Saturdays

IN PASSING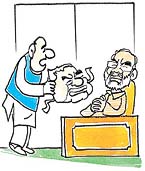 Modi Sahib, you can use Atalji's mask to silence your critics!

by Sandeep Joshi
Pervez to hold referendum in early May
Islamabad, April 5
Pakistan President Pervez Musharraf tonight announced that a referendum would be held in the first week of May on his continuance in office and his future relations with Parliament and the Prime Minister but ruled out any role for former premiers Benazir Bhutto and Nawaz Sharif in the country's politics.
Procurement tax cut to hit Punjab
New Delhi, April 5
The Centre's decision to fix a ceiling of 4 per cent on tax imposed by states on the procurement of foodgrains will hit Punjab and other states severely.
Baffling surrender by Punjab ultra
Amritsar, April 5
Much to the surprise of the Punjab police, a terrorist of the Khalistan National Army, Gurdev Singh, alias Pappy, a resident of Maqbool Road, here, who had taken refuge in Germany, surrendered before the Chief Judicial Magistrate, Mr Kishori Kumar, yesterday.
Centre's no to jathas for Pakistan
Amritsar, April 5
A high-level meeting presided over by Prime Minister Atal Behari Vajpayee at New Delhi today decided not to grant permission to any Sikh devotee to visit Pakistan to pay obeisance at Sikh shrines there to mark the Baisakhi festival, according to Dr Gurbachan Singh Bachan, Secretary, SGPC, here today.
Fraud leaves Markfed poorer by crores
Officials, agents nexus exposed
Ferozepore, April 5
Negligence of duty on the part of Markfed officials has duped Asia's biggest co-operative society of more than Rs 1 crore at its Guru Har Sahai branch. The tangled tale of embezzlement of Markfed's money in this branch has also brought to light many frauds in Ferozepore amounting to more than Rs 20 crore.
In Sports Tribune today

Put end to violence: PM
April 5, 2002

Five burnt alive in Gujarat
April 4, 2002

Sikhism favoured as separate religion
April 3, 2002

Punjab, Haryana CMs clash over water
April 2, 2002

Quantitative restrictions on exports go
April 1, 2002

Foreign ultras storm Raghunath Temple
March 31, 2002

Mosque siege ends
March 29, 2002

Gujarat heads for snap poll?
March 28, 2002

Joint session okays POTO
March 27, 2002

Yasin Malik held under POTO
March 26, 2002

NHRC indicts Gujarat Government
March 25, 2002