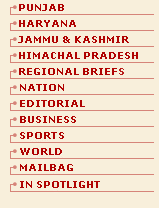 Monday, April 8, 2002, Chandigarh, India
Updated at 3:00 am (IST)

BJP-BSP tie-up in UP on cards
Talks on govt formation after PM's return
New Delhi, April 7
Strong denials by the state party units notwithstanding, a tie-up between the BJP and the BSP for the formation of a government led by Ms Mayawati is now in final stages and is likely to be announced anytime after the three-day national executive meeting of the BJP in Goa this week.
Medha Patkar manhandled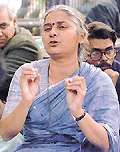 6 scribes injured in lathi charge at Gandhi Ashram
Ahmedabad, April 7
Narmada Bachao Andolan leader Medha Patkar was today manhandled by angry residents of Sabarmati Colony in Gandhi Ashram, founded by peace apostle Mahatma Gandhi, where she was presiding over a peace meeting.


In Video (28k, 56k)

CAST YOUR VOTE
Should Gen. Pervez Musharraf's threat to use nuclear weapons against India be taken seriously?