Poor lighting in garages poses problems for residents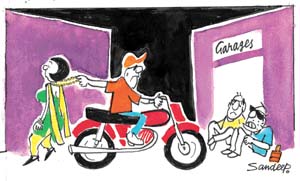 Chandigarh, April 9
The Modern Housing Complex in Mani Majra, having a population of nearly 20,000 and built by the Chandigarh Housing Board about a decade ago is plagued by a plethora of problems. A major problem is unsafe garages in the multi-storeyed complex, involving nearly 2300 four-storeyed flats, where the absence of any proper lighting system has resulted in total darkness.
Displaced villagers demand reservation
Chandigarh, April 9
The Pind Bachao Committee, a body of villagers who were ousted to make way for establishing Chandigarh, has demanded reservation in jobs in the Police Department and also other wings of the Chandigarh Administration on compassionate grounds. The committee says it will be like an alternate profession to be taken as rehabilitation in lieu of loss of their ancestral professions which were lost for ever at the time of displacement.
Coloniser denies selling plots twice
Zirakpur, April 9
Reacting to a news item published in Chandigarh Tribune today Mr Prem Chand Singla, managing director of Shalimar Enclave Colony, located in Dhakauli village, near here, has alleged that members of the Shalimar Enclave Welfare Society and the land owners from whom he had purchased land were blackmailing him.
Tax-payers honoured
Chandigarh, April 9
Former Advocate-General of Punjab and Haryana Manmohan Lal Sarin, and Mr Gurmeet Singh, proprietor of the Gurmeet Singh and Company, of the city were honoured by the Income Tax Department for their tax contribution to the national exchequer.
Attack on scribes condemned
Chandigarh, April 9
The Governing Council of the Chandigarh Press Club today took serious view of the recent incident in Ahmedabad in which journalists on duty were assaulted.
CTCC rally against attack on journalists
Chandigarh, April 9
The Chandigarh Territorial Congress Committee (CTCC) here today decided to organise a rally from Ram Darbar to the main parts of the city on April 11 to protest against the alleged attacks on journalists in Gujarat.
Dharna by vendors
Chandigarh, April 9
The Sector-26 Subji Mandi Rehri-Phari Union here today sat on a dharna to protest against the alleged harassment of rehri-phariwallahs.
Probe ordered
SAS Nagar, April 9
The Senior Superintendent of Police (SSP), Mr G.P.S. Bhullar, has marked an inquiry into an alleged incident of preventing certain scribes from entering the Phase 8 police station here today.
Killing of Hindus condemned
Chandigarh, April 9
The Bharatiya Yuva Janata Morcha here today condemned the killing of nine Hindus in Jammu and Kashmir and criticised the Chief Minister, Dr Farooq Abdullah, for failure to protect the minorities in the state.
National Survey Day today
Chandigarh, April 9
The north-western headquarters of the Survey of India will celebrate the National Survey Day here tomorrow.
READERS WRITE
SCOs not covered by PSEB order
THE Punjab State Electricity Board (PSEB), vide Memo No.11420/12170/SSM268, January 24, 2002, has decided to release more than one connection on the same premises for domestic supply consumers keeping in view the genuine problems of the consumers and for giving independent supply to tenants by landlords to avoid disputes.
Polio not eradicated

Lions' population