Costing for Management
by SK Bhattacharya and John Dearden. Vikas Publishing House Pvt. Ltd., New Delhi. Pages XII + 291. Price: Rs 180/-.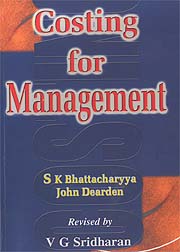 As economic activities get increasingly sophisticated, management techniques and tools need to be honed accordingly. Cost management has therefore become an indispensable part of a business unit's overall administrative structure. It helps in keeping track of both economically viable and non-viable activities; and aims at product costing and inventory valuation, providing necessary support in the form of data to the decision making process, and facilitate cost reduction wherever feasible.
The product — be it of a manufacturing unit or a tertiary sector enterprise — is the smallest unit for which profitability is calculated. It aids in arriving at profitability of the various business segments of an organisation — eventually providing a comprehensive picture. Revenue, manufacturing costs and non-manufacturing costs are the three factors involved in product-profitability analysis, which enables the managers to take corrective action if, when and where required.
There are some revisions in this edition that have made it more useful to the students. A new, comprehensive, chart in the first chapter underlines the need for switching over to latest systems that are beneficial to a business unit in the competitive environment.
The Activity Based Costing in the second chapter is an entirely new addition. Chapter 3 explains two types of product costing systems through job and process costing. Chapters 4 to 6 deal with the systems required for decision making, viz, contribution analysis, differential costing, capital investment analysis and disinvestment decisions. Chapters 7 to 10 give details of systems for cost control and reduction. Students of economics and management can benefit from this book.
The Role of Memorandum of Understanding in Public Enterprise Reform
by RK Mishra, R. Nandagopal, P. Geeta & B. Navin. Vikas Publishing House, N. Delhi. Pages: XIV + 220. Price: Rs 750/-.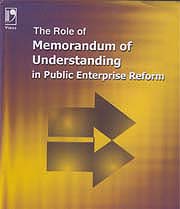 Our public sector enterprises are feeling the need for gearing up to get in step with the fast changing economic scenario — both in national and world arenas. Not only are they trying to shed the sloth and flab of our socialism-era vintage, but are getting set to be more professional. Accordingly the necessity for a more productive equation with the government is being felt. The MoU system has been adopted to compete with the private sector. The focus is on giving substantial autonomy to the PSEs.
The Memorandum of Understanding is a freely negotiated agreement between the public enterprise and the administrative ministry, whereby the former undertakes to achieve pre-determined targets. Its performance — both financial and non-financial — is graded to help evaluate its strengths and weaknesses. Well explained chapters like "Public Enterprises Reform MoUs in Theory and Practice", "MoU — More Memorandum than Understanding", "MoU — The Wrong End of the Stick" etc help understand the changes going on in our public sector. Principles and modalities of the performance contract have been given in this book, which advocates greater autonomy and accountability for the public enterprises through MoUs while retaining the relevance of State participation in the business.
Privatisation
by RK Mishra &KS Bhat. Vikas Publishing House, N. Delhi. Pages: XIX + 368. Price: Rs 950/-.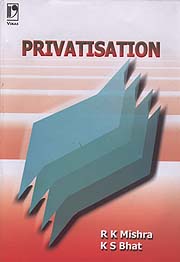 The privatisation mantra has entranced our policy makers. Those halcyon days when efficiency and performance were considered secondary to the socialistic ideal have been duly consigned to history. Today terms like profitability, free market economy and competitive edge etc are being freely bandied about right from boardrooms to shop-floors. Perform or quit is the current motto at the workplace. The authors claim to provide a coherent picture of privatisation in India and the UK. They discuss the need for privatisation for sustainable economic, social and political development in India and UK.
The book also takes a look at the UK experience of privatisation that could be relevant to the Indian scene. The non-privatisation reforms are being looked upon as precursor to privatisation. Chapters on the process of privatisation, restructuring and turnaround strategies, non-privatisation options, reforms in utilities, total quality management, consumer protection and social responsibilities are thought provoking.
There is a sense of uneasiness in several quarters.Won't the new regime be harsh on the labour and unjust to the vulnerable? The new work culture involves values that are alien to our traditional mindset. Though wealth has an important place in our civilisation, it is subordinated to a highe wherein compassion, duty towards the society and a less selfish way of living hold prominence. A dispassionate way of looking upon labour as a mere input for the productive process is considered dehumanising. Excellence at the workplace should be nobler than being merely an economic act. Privatisation with a sense of responsibility can prove to be ideal. The authors have tried to convey this message.