Chiller thriller
When a man loses his mind you put him in an asylum. When a dog becomes rabid it is shot. But what do you do when an entire town goes mad?

Achanak: Spooky ghost town
Sony TV brings you a thriller so chilling you would have thought it rightly belongs to the realm of horror cinema. But what else can you expect from B.P. Singh and Shridhar Raghavan who gave you Aahat and CID? Obviously a bigger gripper.
Achanak every Friday at 10.30 pm has characters who will seize your jugular and a story guaranteed to get under your skin episode by episode.
Gahota is a sleepy little coastal town famed for its bird sanctuary. But in the last two months no bird has been spotted in the sanctuary! It is as if they realised something that humans haven't realised yet! And that's not all. People have entered Gahota but no one's left! Something evil is going on. A strange cycle of madness has gripped the town.
That's when eight unrelated people enter Gahota, each linked to the town in a sensational way....And this would be a good time to hold tight as the terror soon starts unfolding.
If you have a taste for horror, don't miss this gut-wrenching serial.
Maya memsahib
Remember the archetypal filmi mom — teary-eyed widow in a white sari? Nirupa Roy and Achla Sachdev eminently played the all-sacrificing mom. Now fast track to the present times. Meet the new-age mothers. Designer wear, laptops and an attitude to match.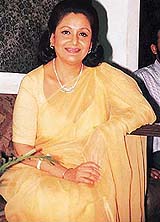 Maya Alagh: Mother of all role models

If Bollywood has transformed so has television. And leading the change in Maya Alagh, the eighties Oh-Ho girl who inspired a generation to switch from the normal to a clove-flavoured toothpaste.
"In the earlier times there were just two kinds of roles. Either sob through the film or do the scheming Lalita Pawar act," says Maya who is a doctor by profession and wife of a leading corporate hot-shot, Sunil Alagh, managing director of Britannia Industries.
Thanks to women like her, things have started changing dramatically. "My serial Kavita on DD Metro is a complete antithesis of a traditional mother's role," says Maya who also recently made her debut as a host in a daily half-hour capsule called Ardhangini.
Maya has played diverse roles in films but it is TV that she is best associated with. "I elected to become a modern mom and accepted only those kind of roles," says Maya who's only made an exception with royal characters in epics like Tipu Sultan and Noorjehan.
Indeed, television has opened a whole new vista for Maya Alagh and actresses of her ilk who have come to define the new-age mom. A couple of decades ago people would have been shocked out of their seats. But then times change. And so do moms.
Carry on, Jason
He loves Indian food and Indian women. But what he loves most about India is cricket and the passions it arouses. Which is Jason Dasey is hosting Sportsline on ESPN Star Sports a daily sports news capsule. "It's an exciting challenge," says Jason who is one of Australia's most experienced sports broadcasters and was on a visit to India recently.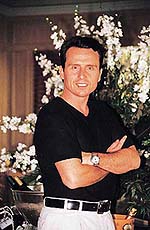 Sportsline's Jason Dasey: Good shot!

A career that began as a weekend sports correspondent for Australian Associated Press as a teenager in the late seventies, has flourished over a quarter of a century and embraced three continents. Jason brings a wealth of experience to ESPN Star Sports having earlier served as a broadcaster with BBC and CNN.
"I am not just a show anchor. I usually sweat it out with the scripting, editing and production as well. I enjoy analysing India's cricket performance," says Jason whose favourite broadcasters are Geoffrey Boycott and Navjot Sidhu. Why Sidhu? Isn't he trivialising cricket with his frivolous comments? No, he says. "Sidhu tells it straight".
Although this is only his second trip, the TV anchor says he has a long connection with India because of love for Indian cricket and love for Indian food. For good measure you could add Indian women to that as well!
Afghanistan re-visited
For all of you who switched on to CNN and BBC during America's war against terror there's more interesting viewing in store.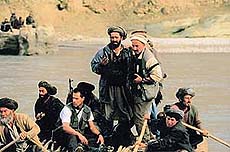 A scene from Afghanistan Revealed: Gripping series
Cashing in on the high viewership of the Afghan war, the National Geographic Channel brings you a riveting series Afghanistan Revealed, starting April 26, Monday through Friday at 10 p.m.
Author Sebastian Junger and National Geographic photographer Reza travel into the heart of Afghanistan to profile in detail the Northern Alliance's battle against the Taliban before the American invasion of the country.
Besides getting some exclusive footage, the two also encounter Massoud, a charismatic leader of the Alliance, who was later assassinated by suicide bombers two days before the September 11 attacks on the World Trade Centre and Pentagon.
The series brings back the horrors of the first war of the new millennium and certainly makes for some absorbing viewing.
Little champions
Pretending to play on a big league team, Ranjit whacks the ball with his bat and runs as fast as he can through a bustling city street. In this special episode of Born Winners, April 15, on Discovery Kids at 3 p.m. viewers travel to Mumbai neighbourhoods to watch a young boy pursue his dream of becoming a cricketer.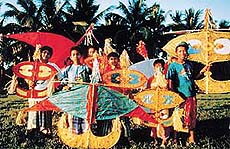 Born Winners: Inspiring tales for the young

Ranjit and his friends grab every chance they get to discuss and play their favourite sport — cricket. Some will use anything for a wicket — logs, table legs or even parts of fences. But Ranjit takes his sport seriously, practicing with only the best equipment.
Each episode of Born Winners portrays a child striving for success in an athletic event. These young athletes demonstrate that greatness can only come through devotion to one's dreams and the constant struggle against unfavourable odds.
Like Ranjit, another boy halfway across the world follows his dream. In Montreal, Canada, 12-year-old Jonah pursues a baseball scholarship to attend college. In Mongolia a young contortionist hopes to become her country's first Olympian. In Malaysia a group of kids participate in an exotic kite flying sport.
Born Winners profiles athletic youngsters from different parts of the world who pursue their passions. These motivating episodes are a must-see for young viewers.
— Mukesh Khosla