Method:
Remove the seeds of the pumpkin. Wash and cut into thick pieces leaving the peel intact. Brush these pieces with melted butter. Sprinkle salt and pepper and keep aside. Toast khus-khus on low flame till golden in colour. Grind chillies and garlic in a mixer. Add vinegar, salt and a pinch of sugar and make a fine paste. Apply the chilli-garlic paste on one half of each pumpkin piece and roll the other half in roasted khus-khus.
Place these pieces on a greased flat baking tray. Do not over lap. Roast in preheated (190°C) over till done, turning the pumpkin a few times.
Pumpkin stir fry
Ingredients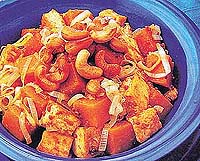 Pumpkin stir fry
Pumpkin (cubed) 1 (medium sized)
Cashewnuts 1 cup
Cottage cheese (cubed) 300 gm
Coriander powder 2 tsp
Cummin powder 2 tsp
Mustard seeds 2 tsp
Garlic cloves 2-3
Orange juice 3/4 cup
Sugar 1 tsp
Oil for frying.
Method:
Add I tbsp oil to a very hot wok or karahi and swirl to coat the side. Stir fry cashewnuts till golden. Drain and keep. Stir fry cottage cheese for 2/3 minutes or till golden in colour. Remove and set aside. Add a little more oil and add the spices and crushed garlic cloves. Stir fry for 1-2 minutes till the seeds begin to splutter. Add the pumpkin and stir. Add orange juice and sugar and bring to a boil. Cover and let it simmer for 5 minutes. Add cheese and simmer uncovered for 5 minutes more. Check that the pumpkin is tender and cooked. Add salt according to taste. Top with cashewnuts and serve hot.
Steamed surprise
Ingredients:
Pumpkin Ground and preferably with stalk) 2 kg
Keema 1kg
Tomatoes 800 gm
Onions (finely chopped) 1 cup
Tomato ketchup 1 cup
Apples (cubed) 2 cups
Coriander seeds (powder) 1 tbsp
Cumminseeds (powder) 1 tbsp
Black pepper 1 tsp
Kashmiri mirch 1 tsp
Ginger-garlic paste 1 tsp
Bay leaves 3
Mint leaves (chopped) 1 tbsp
Raisins 100 gm Cashewnuts (fried) 100 gm
Lettuce leaves 2/3
Salt to taste
Desi ghee for cooking
Method
Thoroughly wash the pumpkin. Slice off the top to have a wide mouth. Remove the seeds and soft strands from inside with a small knife to get a smooth finish.
Fill a large vessel with water and add salt to it. Put on high flame and immerse the pumpkin and the sliced top into the water. Cook till it becomes tender from inside. Remove and drain on a wire rack.
Add ginger-garlic paste, pepper powder and salt to the keema and set aside for marination.
Heat pure ghee in a thick-bottomed vessel and fry chopped onions till transparent. Add keema and stir for 5-7 minutes. Add some more ghee and cook while stirring on a low flame. Add all the spices. Puree the tomatoes and add to keema. Add two cups of water and cook the keema till done. Mix apples mint leaves, bay leaves, tomato ketchup and cook for 10 minutes or till oil leaves the sides. Arrange lettuce leaves in a large flat dish. Set the steamed pumpkin on the leaves and fill the hot keema into it letting some of it on the dish too. Top with fried cashewnuts and raisins.
Serve with paranthas or garlic bread.