* Shyam Benegal's Mandi is a film about a brothel in a village. Shabana Azmi plays Rukmini — a woman who runs a brothel — who zealously guards the chastity of singer Zeenat (Smita Patil). The son of a local big-wig (Saeed Jaffrey) falls in love with Zeenat and his father forces the kotha to move out. The removal of the kotha leads to the migration of a big chunk of the village population most of whom are clients. As a result, the property prices in the village crash to rock-bottom. The film has social dimensions to show the reaction of the village while dealing with what is for some "a cancer" and for others a simple economic activity. The film catapults Shabana and Smita to dizzy heights of histrionics.
* B. Bapu's Woh Saat Din is a love story with a difference. Prem Pratap Patialawala (Anil Kapoor) — a small town musician, arrives in Bombay with dreams of making it a big in Bollywood. He falls in love with Padmini Kolhapure — his landlord's daughter but is too shy to express his feelings. The girl is married off to a doctor — Naseeruddin Shah. Prem suffers in silence. When Shah learns how the rustic musician loves his wife, he offers to opt out of the relationship, but Prem declines the gentleman's generous but utopian offer. Anil Kapoor conveys the challenges of his role and exhibits and endearing bonhomie as he moulds himself into a modern Raj Kapoor.
* Ketan Mehta's Holi address the increasing disillusionment among students. When students are asked to attend a lecture on the "cultural heritage of India" on a holiday, they revolt and resort to violence as the pretentious subject is in contrast to the state of education imparted in their college. The colourful festival of Holi turns into menacing monster of fire as students burn furniture, books and equipment. Next morning the orgy of violence subsides. The film ends with a song by students, which means: 'What sort of world we are heading towards? Where will this path lead to ...' Om Puri, Naseeruddin Shah and Deepti Naval give realistic performances.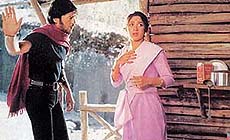 Jackie Shroff and Meenakshi Seshadhari in Hero

* Subhash Ghai's Hero is a celluloid masterpiece highlighting the belief that there is core of goodness in every human being, including a hard-boiled criminal. Hero is a story of triumph of human goodness. Jackie Shroff is an orphan who has been raised by a notorious criminal Amrish Puri. When Puri is arrested, he forces Jackie to silence the main prosecution witness, Shammi Kapoor, a retired police officer. Jackie kidnaps Meenakshi Seshadhari — Kapoor's daughter. In a violent climax, Jackie saves Shammi Kapoor and Meenakashi from Puri's clutches. In his debut film, Jackie matches the histrionics of thespians like Sanjeev Kumar, Shammi Kapoor etc.
* Manmohan Desai's Coolie is recorded in cinematic history as the film during whose shooting Puneet Issar accidentally delivered a near-fatal blow to Amitabh Bachchan. Iqbal (Bachchan) is a Muslim orphan who is brought up by a Hindu. As he grows up, he becomes the leader of coolies (porters) at a railway station. Kadar Khan is a villainous tycoon who is responsible for various catastrophes, including the murder of Iqbal's father and rape of his mother. The last part of the film is shot at the Haji Ali mosque in Bombay from where an injured Iqbal invokes the power of Allah to deliver a death blow to the villain and his prayer is answered.
* Sagar Sarhadi's Bazaar tackles the sensitive issue of marriage arranged by the poor Indian Muslim families for their young daughters with much older men who have made their fortunes in the Gulf. Smita Patil plays a conflict-ridden Muslim woman who unwittingly becomes instrumental in marrying off one such adolescent girl — Supriya Pathak — to a debauched old-man. When the girl commits suicide on her wedding night, Smita ends up tormented, guilt-stricken, wounded, but wiser. Smita exudes disdain and disgust when in one of the scenes she says, "Shakir Bhai! Aap ke bazaar mein agar koi susti cheez hai to woh hai aurat." 'Dikhayee diye youn ke bekhud kiya, hameen aap se bhee juda kar chale', sung by Lata Mangeshkar is an enchanting number. Smita and Naseeruddin Shah give superlative performances.
* In K. Raghvendra Rao's Himmatwala, Jeetendra, an engineer comes to his ancestral villa to introduce a welfare measure in the form of a dam on land belonging to Sher Singh Bandookwala (Amjad Khan). In the village Sher Singh is law unto himself, who runs his own Parliament and a system of dispensing justice. Earlier, he had forced Jeetendra father — an upright school teacher into bonded labour. Jeetendra's bullies Sher Singh's daughter — Sridevi — into supporting him and opposing her father. The villain gets his due. The rule of law is restored in the village. For the first time, Amjad Khan plays a villain who is not vicious and venomous.