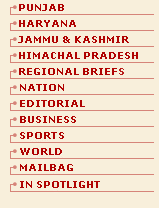 Saturday, April 20, 2002, Chandigarh, India
Updated at 3:00 am (IST)

PM dares Oppn to table no-trust move
New Delhi, April 19
In a bid to find a way out of the impasse, Prime Minister Atal Behari Vajpayee today dared the Opposition to move a no-confidence motion against his government in the Lok Sabha as the stand off on the Gujarat issue continued to paralyse Parliament for the fifth day today.
Deputy Speaker of the Lok Sabha P.M. Sayeed, Prime Minister Atal Behari Vajpayee, Congress President Sonia Gandhi, Union Parliamentary Affairs Minister Pramod Mahajan and TDP leader
Y. Naidu at an all-party meeting in New Delhi on Friday. — PTI photo
CAST YOUR VOTE
Is the BJP's decision at the Goa conclave to recommend early elections in Gujarat correct?