M A I N N E W S
Ultras massacre five
Tribune Reporters and Agencies
Jammu, April 10
Within 24 hours Pakistan-backed militants carried out another massacre in Nagni Danda village in the Dandhov subdivision of Doda district by killing five persons and injuring three others last night.
According to the police, militants barged into the house of Noor Gujjar in the far-flung village and when they found neither Noor nor his two sons, Alif Din and Ibrahim, in the house they opened fire on the other family members of Noor. Two women and three children of one family were killed and three others were injured.
Usmati Meena (23), Usmati Beeran (22), Jafar (eight), Saleem (five) and Shabir Ahmed (four) were killed on the spot. Gul Shama and Fatima and another civilian were wounded and shifted to Doda hospital.
Militants had gunned down seven members of minority community at Dandhli village in the Mahore area of Udhampur on April 7. Ten civilians were injured and more than 20 houses and huts were set ablaze in the incident.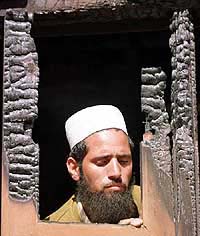 A Kashmiri looks through a burnt window after a gun battle in Karimabad village, Srinagar, on Wednesday. — Reuters photo
Eyewitness reports said the militants had entered Nagni Danda village in search of Noor Gujjar who is said to be working as informer with the security agencies. Noor Gujjar had been blamed for having given specific information regarding the rebel hideouts in the area which resulted in result-oriented operations carried out by the security forces.
When the militants did not find Noor and his two sons in the house they first questioned the family members. Failing to get any information regarding the whereabouts of Noor Gujjar, the militants resorted to indiscriminate firing in which five civilians were killed and three others were wounded.
Senior police officials from Doda and Kishtwar rushed to the area along with two companies of the security forces. The villlage and its adjoining areas were cordoned off to nab the militants.
Meanwhile, Jammu and Kashmir Chief Minister Farooq Abdullah said he would urge Union Home Minister L.K. Advani to provide additional security forces to eliminate terrorists through massive combing operations in Udhampur district and asserted that if necessary Army's help would be sought in this connection.
After visiting the site of the massacre at Dhandli-Arnas in Reasi tehsil of Udhampur district this afternoon, Dr Abdullah announced that he would take up the issue of the deployment of additional forces with Mr Advani.
"If necessary Army assistance should be sought for eliminating militants. Armed action has become necessary against terrorists responsible for the bloodshed,'' he said.
Condemning the series of carnages committed by Pak-aided militants the Union Minister for Food Processing, Prof Chaman Lal Gupta, said Islamabad was behind these "barbaric crimes" with a view to scaring away people from taking part in the elections. He said mentors of such crimes would have to face consequences. He also accused certain political leaders belonging to the ruling National Conference for patronising the merchants of death.
Referring to last Sunday's carnage in Dhandli village in Udhampur district Professor Gupta said under the instructions of Pakistan minorities were being killed and terrorised to force them to quit their ancestral hamlets.
Others who condemned the two massacres of civilians included Mr Mangat Ram Sharma, Mr Raman Bhalla (both from the Congress) Mr M.Y. Tarigami, CPM leader, and several National Conference leaders. The Chief Minister, Dr Farooq Abdullah, expressed grief over the carnage and said Pakistan continued to aid and encourage terrorism on one side and on the other had joined hands with the US Government in its global war against terrorism.
SRINAGAR: At least nine persons, including four militants, have been killed and two others injured in separate incidents in the Kashmir valley since Tuesday.
The police here said three suspected militants and a BSF jawan were killed in an encounter near Shopian in Pulwama district of south Kashmir yesterday. two AK rifles, one pistol, one wireless set and some ammunition were recovered from the site of encounter.
In another encounter, one militant of the Hizb-ul-Mujahideen was killed at Karimabad in Pulwama district yesterday.