Govt to set up panels on CNG infrastructure
New Delhi, April 10
The government will set up two committees to expedite setting up of infrastructure for CNG dispensation in the Capital and will hold consultations within the NDA and with Opposition parties over bringing of a Bill to allow use of multiple fuels in the country.
Suicide bomb attack kills 10 in Haifa
Jerusalem, April 10
At least 10 persons were killed and 20 injured in a suicide bomb attack on a bus near Haifa in northern Israel early today, Israeli medical sources said.
India, Cambodia JWG to promote tourism
Phnom Penh, April 10
India and Cambodia today decided to set up a Joint Working Group to promote tourism mainly to the world famous Angkor Vat temples in northern city of Siem Reap and agreed in principle to start direct flights between the two countries.


In video (28k, 56k)
In Science Tribune today

THE TRIBUNE MAGAZINES
On Mondays

On Sundays
On Saturdays

IN PASSING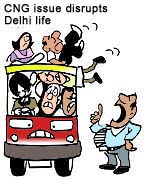 We can't tolerate threat to health; inconvenience is regretted!

by Sandeep Joshi
Fernandes arrives in Moscow
Moscow, April 10
Indian Defence Minister George Fernandes arrived here today for a five-day official visit, during which he will discuss pending defence deals, including the much-delayed acquisition of the aircraft carrier "Admiral Gorshkov'', and hold talks on intensifying cooperation in security matters.
Rocca holds talks with Jaswant
New Delhi, April 10
The ongoing military face-off between India and Pakistan and progress made by the international community in war against terrorism came up for discussion when US Assistant Secretary of State for South Asia Christina Rocca today met External Affairs Minister Jaswant Singh.


In video (28k, 56k)

Prof Nagi is PGI Dean
New Delhi, April 10
The governing body of the Post Graduate Institute of Medical Education and Research selected its Dean at an emergency meeting held here today.
I have not quit: Prabhu
New Delhi, April 10
Union Power Minister Suresh Prabhu today denied reports that he had resigned from the government.


Akalis raise bogey of repression
Allege undeclared emergency in Punjab
Amritsar, April 10
Beleaguered Akalis have again raised the bogey that the "wrong policies" of the Congress government could push the state back to the dark era of violence and repression.
Mr Parkash Singh Badal, SAD President, Bibi Jagir Kaur, Prof Kirpal Singh Badungar and Capt Kanwaljit Singh at the PAC meeting held in Amritsar on Wednesday. — Photo Rajiv Sharma
PM wants security framework for Asia
April 10, 2002

7 villagers massacred
April 9, 2002

BJP-BSP tie-up in UP on cards
April 8, 2002


CPI wrests Malout seat
April 7, 2002


Vajpayee suggests more powers for panchayats
April 6, 2002

Put end to violence: PM
April 5, 2002

Five burnt alive in Gujarat
April 4, 2002

Sikhism favoured as separate religion
April 3, 2002

Punjab, Haryana CMs clash over water
April 2, 2002

Quantitative restrictions on exports go
April 1, 2002

Foreign ultras storm Raghunath Temple
March 31, 2002