M A I N N E W S
PM wants security framework for Asia
India offers judge to try Khmer leaders
Phnom Penh, April 9
India today offered to send a judge to serve on a tribunal for the possible trial of Khmer Rouge leaders in Cambodia, if the United Nations decided not to take part in the long-awaited exercise.


Vajpayee names orchid 'Neha'
Singapore, April 9
Taking time off his busy schedule, Prime Minister Atal Behari Vajpayee today christened an orchid after his foster granddaughter Neharika.
Before leaving the city state after a three-day visit during which India and Singapore decided on a slew of measures to strengthen economic cooperation, Mr Vajpayee drove to the Botanical Gardens here to name the orchid. The orchid was christened "Neha", after his granddaughter. PTI
Addressing a joint press conference with his Cambodian counterpart Hun Sen after the signing of three agreements, Prime Minister Atal Behari Vajpayee said, "If the United Nations does not help and Cambodia decides to go further in the matter, India will be ready to assist."
According to sources, the Indian offer to help Cambodia set up a tribunal is the first by a foreign government.
"We have offered to send a judge from India to participate in the trial. If the United Nations finally say `no', that decision will be taken," Mr Vajpayee said.
During his talks with Mr Vajpayee, who arrived here today from Singapore on the second leg of a South-east Asian visit, Mr Hun Sen sought India's help in the efforts to bring the United Nations around to having a trial of Khmer Rouge leaders, something the world body has been reluctant to do.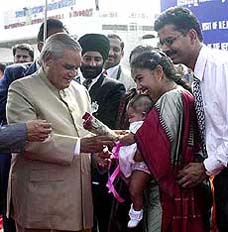 Prime Minister Atal Behari Vajpayee being welcomed by a kid upon his arrival at Pochentong International Airport in Phnom Penh on Tuesday. — PTI photo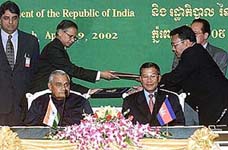 Prime Minister Atal Bihari Vajpayee (L) and Cambodia Prime Minister Hun Sen attend a signing ceremony in Phnom Penh on Tuesday. — Reuters photo

Mr Hun Sen today said, "We can't wait endlessly. The Khmer Rouge leaders are too old and could be dead before a trial."
Mr Vajpayee said India had agreed to assist Cambodia in a number of areas and added that relations with "this traditional friend" would be "broadened and deepened".
The areas in which India will assist Cambodia include the setting up of a museum for traditional textiles, setting up of computer kiosks and providing experts to that country in diverse fields.
The three agreements that were signed between the two countries related to the conservation of the Ta Prom temple, air services and visa exemptions for diplomatic and official passport holders.
Mr Vajpayee thanked Mr Hun Sen for playing a pivotal role in influencing ASEAN members, as a result of which the first-ever India-ASEAN summit is scheduled to take place in November.
After the meeting between the two Prime Ministers, delegation-level talks took place.
Earlier in Singapore, in an obvious reference to Pakistan's patronage to terrorism, Mr Vajpayee said "totalitarian regimes" were responsible for the spread of terrorism and called for a comprehensive security framework in Asia to tackle the menace.
Mr Vajpayee said while ethno-nationalist violence and terrorism fed by extremism needed to be suppressed and eradicated, there were no effective solutions within national boundaries.
"They have to be tackled through a cooperative approach, holistically and regionally. But unlike other continents with formal politico-security cooperation frameworks like OSCE, OAS and OAU, Asia does not as yet have a comprehensive security framework."
Delivering the Annual Singapore Lecture — 2002 here, Mr Vajpayee said India and ASEAN were now poised to intensify their political and security dialogue to add a new dimension to a mutually beneficial and economic and commercial relationship.
Without naming Pakistan, he said it was not surprising that terrorism was supported and sponsored only by undemocratic societies and totalitarian regimes.
The Prime Minister, addressing an illustrious gathering at the Institute of Southeast Asian Studies, noted that a cooperative security framework was now gradually evolving and developing in Asia Pacific. The ASEAN Regional Forum, with Southeast Asia at its nucleus, was developing into a unique platform for security dialogue.
The Prime Minister also highlighted non-military threats to the security of Asia such as poverty, food and energy shortage, population growth, spread of AIDS and tuberculosis, environmental degradation and cyber crime.
He said though India's relations with Singapore had grown considerably over the past decade, a vast potential still remained untapped. UNI