The man who knows & talks too much
On March 12, 2002, a court in Karachi extended the police remand of Omar Shaikh, the British terrorist of Pakistani origin, who is believed to have masterminded the kidnapping of Daniel Pearl, the US journalist. Pearl was subsequently reported to have been brutally murdered and beheaded, most probably by the Harkat-ul-Jihad-al-Islami.
Rocca meets senior MEA officials
New Delhi, April 9
The prolonged Indo-Pak military standoff, the situation in Afghanistan and the reports of regrouping of Al-Qaida and Taliban cadres were among the points that came up for wide-ranging talks the visiting US Assistant Secretary of State for South Asia Christina Rocca had today with senior officials here.
In Health Tribune today

THE TRIBUNE MAGAZINES
On Mondays

On Sundays
On Saturdays

IN PASSING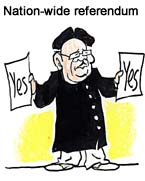 Except me, no one is required in Pakistan!

by Sandeep Joshi
George leaves for Russia today


New Delhi, April 9
India is expected to ask Russia to shift production of some critically needed Russian armament spares to this country during Defence Minister George Fernandes' visit to Russia beginning from tomorrow. Heading a nine-member high level delegation, Mr Fernandes will hold extensive talks with his Russian counterpart Sergi Ivanov.
Two killed in grenade attack in J-K
Srinagar, April 9
Two pedestrians were killed and nine injured when militants lobbed a grenade at security personnel which missed the target and exploded on the road in Anantnag district of Kashmir today, a police spokesman said.
Gurdaspur/Amritsar, April 9
Ever heard a class V student teaching in a government primary school on a meagre payment of Rs 300 per month? This might sound strange, but the startling fact came to light during the two-day vigilance checking of government schools, which were in a pitiable condition.


The inside view of a primary school in Gurdaspur district which is in a pitiable condition.
— Photo Rajiv Sharma
7 villagers massacred
April 9, 2002

BJP-BSP tie-up in UP on cards
April 8, 2002


CPI wrests Malout seat
April 7, 2002


Vajpayee suggests more powers for panchayats
April 6, 2002

Put end to violence: PM
April 5, 2002

Five burnt alive in Gujarat
April 4, 2002

Sikhism favoured as separate religion
April 3, 2002

Punjab, Haryana CMs clash over water
April 2, 2002

Quantitative restrictions on exports go
April 1, 2002

Foreign ultras storm Raghunath Temple
March 31, 2002