Thursday, April 11, 2002, Chandigarh, India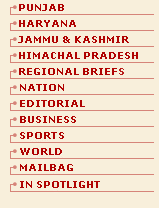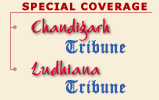 S P O R T S
Georgetown (Guyana), April 10
Uncertainty over the availability of Harbhajan Singh following an injury scare to the off-spinner was the last thing the Indians would have asked for going into the first Test against West Indies starting here tomorrow, and not without reason.

Harbhajan Singh works out during team practice in Georgetown, Guyana, on Tuesday.
— AP/PTI photo
Expert comments — Michael Holding
India favourites against West Indies
It's been more than 30 years since India won a Test series in the Caribbean. Back in 1971, their batting was dominated by the great Sunil Gavaskar who scored 774 runs at an average of 154.80.
Boje hands SA consolation win
Cape Town, April 10
A fine all-round performance by spinner Nicky Boje enabled South Africa to beat Australia by 65 runs in a rain-shortened seventh and final one-day international at Newlands.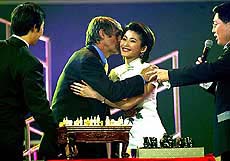 Chinese national soccer team coach Bora Milutinovic kisses hostess Wang Xiaoya after receiving a gift for bringing the Chinese soccer team into the World Cup finals during a ceremony in Beijing on Tuesday. Since China won its World Cup berth in October last year, Chinese fans just cannot get enough of the Serb known throughout the world's most populous nation simply as "Milu". His face, topped by a trademark shaggy pudding bowl haircut, beams out from countless advertisements. — Reuters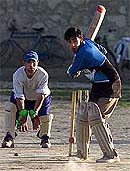 Members of the Kabul cricket team practice in the centre of the capital of Afghanistan on Wednesday. Afghans were discouraged to play sports under the Taliban rule.
— Reuters