Thursday, April 11, 2002, Chandigarh, India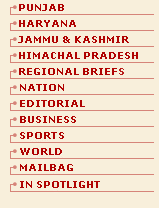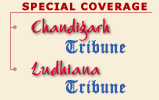 B U S I N E S S
Infosys records 37 pc growth
To pay 250 per cent dividend
Bangalore, April 10
Despite tough global Information Technology environment, Indian Software giant Infosys has registered an impressive performance during 2001-02 posting a 37 per cent growth.
Punjab in dilemma over Punwire probe
Chandigarh, April 10
The Congress government appears to be in a dilemma over whether to go ahead with a high-level probe into the working of Punwire ordered by the previous SAD-BJP government or hand over the enquiry to a new high-powered panel.
All-time high disbursement by Nabard
Chandigarh, April 10
Nabard disbursed an all-time high amount of Rs 2,676 crore as refinance and other assistance to the banks, state governments and other institutions in Punjab and Haryana for investment credit, production credit, rural infrastructure development and other development activities, during year 2001-02 against Rs 2,484 crore extended last year, said Mr A Ramanathan Chief General Manager, while addressing a press conference here today.
Nissan unveils first mini-car
Tokyo, April 10
Nissan Motor Co launched its first mini model today to cash in on the local mini-car market which accounts for a third of all cars sold here.
Economy to grow over 6 pc: ADB
April 10, 2002
India, Singapore ink pacts on telecom
April 9, 2002
Used cars business to flourish
April 8, 2002
Mahajan invites foreign investors
April 7, 2002
IT exports record 36.9 pc growth
April 6, 2002
Wipro, IBM forge alliance
April 5, 2002
Maruti drives back in black
April 4, 2002
Suzuki to set up arm in India
April 3, 2002
Net telephony becomes legal
April 2, 2002
Investor grievances & procedure for redress
April 1, 2002
BSNL notifies lower STD and ISD rates
March 31, 2002