M A I N N E W S
Rocca holds talks with Jaswant
Tribune News Service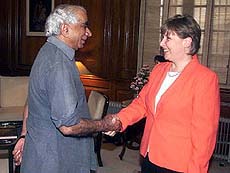 External Affairs Minister Jaswant Singh with US Assistant Secretary of State for South Asia Christina Rocca at his South Block office in New Delhi on Wednesday. — PTI photo
New Delhi, April 10
The ongoing military face-off between India and Pakistan and progress made by the international community in war against terrorism came up for discussion when US Assistant Secretary of State for South Asia Christina Rocca today met External Affairs Minister Jaswant Singh.
During the hour-long talks, Ms Rocca is understood to have briefed Mr Jaswant Singh on her recent talks with Pakistan President Pervez Musharraf in context of India amassing its troops along Pakistan border for the past more than three months.
Ms Rocca also held discussions with Foreign Secretary Chokila Iyer and her Indian counterpart Jayant Prasad, Joint Secretary in the External Affairs Ministry.
She also had a meeting with CBI Director P.C. Sharma.

Stop aiding ultras, Pant asks Pak
Islamabad, April 10
The Deputy Chairman of Planning Commission and chief interlocutor on Kashmir, Mr K.C. Pant, has said Pakistan must end cross-border terrorism to enable the resumption of dialogue with India.
"The ball is in Pakistan's court" to create a conducive atmosphere for resumption of the stalled dialogue, Mr Pant, who was here to attend the SAARC ministerial meeting, told Indian journalists last night, adding that the killings perpetrated by militants continued in Kashmir even now.
Mr Pant said General Musharraf had stated that he would not permit terrorist groups to operate from Pakistan even if it was related to Jammu and Kashmir. PTI