Best friend's wedding
Should horoscopes be followed blindly? Does anyone have the power to change one's destiny? Can kundalis alter lives? The answer to all the three questions is yes. At least that's what the new soap Tu Kahe Agar on Zee TV, Mondays to Thursdays at 10.30 p.m. would have us believe.

A scene from Tu Kahe Agar : 'Deadly' plan

It revolves around the story of Vishal and Maya who are madly in love with each other. However, once they decide to get married they discover destiny has other things in store. There's a curse in Vishal's kundali — the girl he will marry will die within six months.
Obviously Maya doesn't want to be a bride today who dies tomorrow. So she hits upon a foolproof idea. Vishal should marry Maya's best friend and office colleague Trishna who has been diagnosed with blood cancer and has just a few months to live.
The marriage goes through but not the plan. Six months tick by and Trishna seems in no mood of croaking. Worse, she's pregnant and there's a definite chemistry brewing between the two. Where does that leave Maya? Tune in to Tu Kahe Agar for answers.
TV's new poster boy
At first, he jokes, people who hadn't seen him and just heard his name mistook him for Hrithik Roshan's wife Suzanne Khan. But today there's no mistaking Cezzane Khan. His face is everywhere — on hoardings at bus stops, railway platforms and also on car stickers.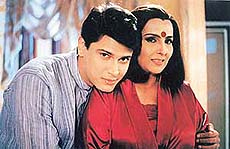 Cezzane Khan with co-star in Kasauti Zindagi Kay ... Rising star

Just two serials old and Khan has become one of the hottest properties on the small screen, thanks to soap queen Ekta Kapoor's Kasauti Zindagi Kay. Where he plays the title role of Anurag Bose, the rich and upright young businessman. "It was tailor-made for Cezzane who's not only good looking but also very talented," says Ekta of her re-discovery.
Re-discovery? Yes, Khan made his debut in Hasrateinn the superhit serial of the nineties. He followed it up with small roles in Dushman and Palchchin. After that he could have been easily forgotten had he not landed a role in Ekta Kapoor's Kalirein. So impressed was she by his performance that she offered him the lead role in Kasauti Zindgai Kay.
"It's been my biggest challenge as in real life I am exactly the opposite," says the effervescent and chirpy Cezzane. "I was paranoid about pulling it off correctly."
Considering the high praise he's receiving will it be films next? "That's a distant dream," says Khan. "I first want to sharpen my skills on TV before going for the big one. No rushing things." He wants to emulate the example of another Khan — Shah Rukh!
Cricketing culture
It sure has come a long way from the time when it was a cultural capsule that captured the imagination of the nation.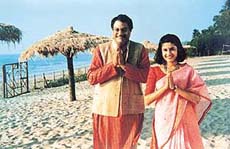 Surabhi...New wine in new bottle


Today there are two marked changes in Surabhi, or rather The Best of Surabhi, aired on Sundays on Star Plus at 9 p.m. One, it is no longer confined only to culture and two it is still eminently watchable but its appeal has shrunk because of a plethora of choices.
Take, for example, the show being aired on April 21. It revolves around cricket. Yes, cricket on Surabhi. A subject that would have been incongruous in the show's earlier avatar.
Dilip Vengsarkar, Ashok Mankad and Eknath Solkar speak on women's cricket which has been receiving its share of bouquets and brickbats. To add a touch of quality a section is devoted to blind cricket. Visually challenged kids are shown playing cricket not by seeing the ball, but by hearing it.
The special guest of the week is, Ajit Tendulkar, brother, confidante and mentor of Sachin who was instrumental in shaping his career. Finally, with the World Cup mania gripping the globe, Amul Cricket ratings story this week leaves you clean bowled. So it's time to pad up for a very different Surabhi!
Sita aur Tulsi
Looks are not everything for meaty TV roles. Smriti Malhotra is an example of that. Some years ago she made her debut as a wide-eyed anchor on Star TV's Ooh La La. Today she's into bigtime stardom.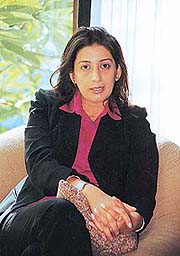 Smriti Malhotra...Heady success

First as Tulsi, the bahu of runaway hit TV soap, Kyunki Saas Bhi Kabhi Bahu Thi, Smriti is a part of every middle class family. And now as Sita in Ravi Chopra's Ramayana she has reasons to feel on top of the world.
"My mother wanted me to be an IAS officer. My father wanted me to join him in his business. But I wanted to be an actress," says Smriti who was selected for the role of Sita from almost 300 hopefuls. She knows the weight of expectations she carries when she plays the lead role in Ramayana. She also realises that back in the eighties the same role turned a little-known star called Deepika into an overnight sensation.
"I've studied the tapes very carefully and though the character is the same, you won't find any repetitions. The role of Sita is interpreted differently and of course Ravi Chopra's handling too, is different."
As expected, the graduate from Delhi University has started getting offers from Bollywood. But so far, she has resisted them all. "I am very content doing TV serials. The small screen has a far greater reach and is becoming more powerful than films." Bollywood's loss surely is television's gain.
— Mukesh Khosla