Monday, April 22, 2002, Chandigarh, India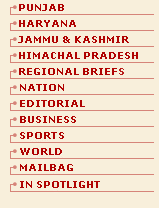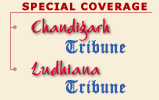 H A R Y A N A
HSEB offers DAE site near Hisar
Chandigarh, April 21
The Haryana State Electricity Board has offered to the Department of Atomic Energy an acquired site at Kumharia village near Hisar for setting up a nuclear power plant after the DAE rejected the Yamunanagar site.
Experts highlight Haryana's progress
Kurukshetra, April 21
Haryana has made remarkable progress in economic, industrial and agriculture during the past three decades. This was stated by Mr L.C. Gupta, former Chief Secretary, Haryana, during his address on "Haryana — Vision 2002" at the university senate hall here yesterday.
12 arrested in dera land case
Sirsa, April 21
The dispute over 104 acres of Dera Baba Bhuman Shah land situated at Sanghar Sadha village in the district took a new turn today when the police in a swift midnight action raided about 12 places in the district to arrest the leaders of the Dera Bachao Samiti.
Couple shot in broad daylight
Jind, April 21
A couple was shot dead in broad daylight on the Nirjan-Pathri village road in this district today. According to reports, Jagbir Singh, resident of the local Urban Estate Colony, along with his wife Krishna was going to Sunderpur village on their scooter.
Housing Board files FIR against 20 allottees
April 21, 2002
SC orders status quo on HCS appointments
April 20, 2002
Will Cong infighting head for decisive battle?
April 19, 2002
Samiti for fresh probe into Loharu violence
April 18, 2002
Haryana official is VC of AMU
April 17, 2002
Tau's dream project becomes casualty
April 16, 2002
Bansi Lal demands Rs 700 MSP for wheat
April 15, 2002
Thakur announces ayurvedic college for Haryana
April 14, 2002
UP farmers start bringing wheat to Haryana
April 13, 2002
Haryana to procure only new wheat
April 12, 2002