Oppn stalls House proceedings
New Delhi, April 22
Gujarat issue continued to rock Parliament for the sixth consecutive day with a determined opposition returning with renewed vigour to force adjournment in both Houses within minutes of its assembling.


In video (28k, 56k)

No deputy to Mayawati: Kanshi
New Delhi, April 22
The Bahujan Samaj Party today gave indications of the hard bargaining it was carrying out with the BJP on the issue of government formation in UP by categorically stating that a Deputy Chief Minister would not be acceptable to it.
In Education Tribune today

THE TRIBUNE MAGAZINES
On Mondays

On Sundays
On Saturdays

IN PASSING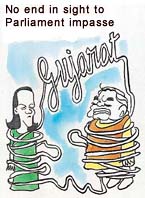 by Sandeep Joshi
"Please-all" reshuffle by Sonia
New Delhi, April 22
In a "please-all" reshuffle in the All-India Congress Committee, Congress President Sonia Gandhi today appointed two political secretaries, filled up vacancies in the Congress Working Committee, reallocated work among general secretaries and changed some secretaries.
Bharti slashes ISD rates
New Delhi, April 22
International long distance telephony tariffs are set to fall significantly with Bharti Group announcing upto 50 per cent reduction in call charges.
50 villagers, animals trapped in inferno
Jammu, April 22
At least 50 villagers, including women and children, and scores of animals were trapped in a fire that broke out late last night in a wildlife park in Shivalik Hills, overlooking Jammu city, officials said today.
Principal's hunting trip costs dear
Student hurt as gun goes off
Ropar, April 22
A class X student of Dashmesh Academy, Anandpur Sahib, Gurpreet Singh son of Mr Karnail Singh, was seriously injured on being accidentally hit by a bullet from a .12-bore gun.


UK Indian funds Briton's hunt


Chandigarh/Dharamsala, April 22
Bill Kitchen (51), a primary schoolteacher and his wife, Angie, a nurse, who were forced to abandon search for their son, Joel, in the Himalayan foothills when their life savings ran out, are back at Bir in Dhauladhar with their hopes of finding him revived, thanks to Dr Kartar Lalvani, a millionaire from London, who offered to finance a new search.
13 killed, curfew in Gujarat areas
April 22, 2002

NDA not a divided house: Vajpayee
April 21, 2002

PM dares Oppn to table no-trust move
April 20, 2002

BJP Parliamentary Board to decide on UP Govt
April 19, 2002

Gujarat Cabinet puts off decision on elections
April 18, 2002

TDP writes to LS Deputy Speaker
April 17, 2002

NDA crisis blows over
April 16, 2002

TDP stops short of withdrawal
April 15, 2002

Remove Modi, insists TDP
April 14, 2002

BJP returns to 'Hindutva'
April 13, 2002

Ban on LTTE to stay
April 12, 2002