Wednesday, April 24, 2002, Chandigarh, India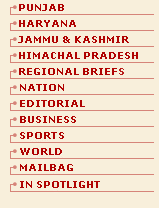 C A L E N D A R
Wednesday, April 24, 2002
Vikrama Samvat
2059
Vaishakha
12
Shaka Samvat
1924
Vaishakha
4
Hijri
1423
Safar
10

Chaitra Shukla Paksha Dwadashi up to 7.00 p.m.
The 12th lunar day of the bright half of chaitra.
Poorvaphalguni Nakshatra up to 6.40 a.m.
Uttaraphalguni obliterated (Nakshatra Kshaya).
The moon enters Virgo at 12.03 p.m.
Haridamanotsava.
Pradosha brata.