Thursday, April 25, 2002, Chandigarh, India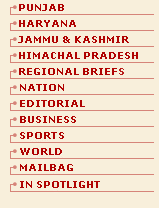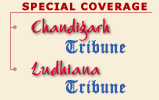 M A I N N E W S
Gulshan case: one held guilty, 18 acquitted
Mumbai, April 24
A Mumbai sessions court today held Mohammad Rauf Merchant guilty of involvement in the Gulshan Kumar murder case. Additional Sessions Judge M. L. Tahiliyani, however, acquitted the 18 other accused, including Ramesh Taurani, the owner of Tips Cassettes, for want of evidence.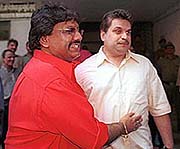 Music director Shravan of the Nadeem-Shravan fame greets Ramesh Taurani, main accused in the Gulshan Kumar case, on being acquitted in Mumbai on Wednesday. — PTI photo


The period of sentence will be decided on Friday as the Special Public Prosecutor Ujjwal Nikam moved an application pleading for award of the death penalty for the accused. Merchant was found guilty of murder (Section 302 of the IPC), attempting to murder the victim (Section 307 of the IPC), robbery (Section 392) and robbery with an intention to cause death (Section 397).
He was charged with killing the audio king and later forcibly taking away a taxi to escape from the scene of the crime. He had allegedly pulled out a taxi driver from the vehicle and fled from Jeet Nagar in suburban Juhu after gunning down Gulshan Kumar.
Earlier, all 19 accused standing trial for the murder of Gulshan Kumar outside a Shiva temple at Oshiwara in Andheri, north-west Mumbai, on August 12, 1997, earned a reprieve with a Sessions Judge ruling that the Mumbai police had failed to furnish any substantial evidence to enable the court to frame charges of criminal conspiracy against them.
The Additional Sessions Judge, however, was emphatic that the prosecution had failed to prove its serious charge that a conspiracy was hatched by the accused to kill the audio cassette magnate.
The judge observed that the prosecution has failed to prove that during the period from January, 1997, to August, 1997, the accused conspired to acquire firearms in contravention of provisions of Section 3 of the Arms Act. UNI, PTI