Thursday, April 25, 2002, Chandigarh, India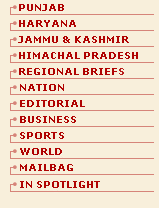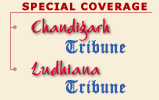 S P O T L I G H T
Air Marshal Bhatia shifted
New Delhi, April 24
The government today removed from operational command Air Marshal Vinod Bhatia, Air Officer Commanding-in-Chief of the Western Air Command, after finding him guilty of straying into Pakistani airspace while piloting an An-32 aircraft on February 19.
An IAF spokesman said: "The government has approved the posting of Air Marshal Bhatia as Inspector-General''.
The spokesman said Air Marshal Bhatia would continue to hold the rank of Air Officer Commanding-in-Chief.
This is the second instance in the past two months when the government has taken stringent action against a senior IAF officer. Last month, Air Marshal M S Sekhon was forced to put in his papers after he was found guilty of seeking political favours. UNI