Curfew in Baroda, Army out in Ahmedabad
Ahmedabad, April 25
Communal violence erupted afresh tonight in several localities of Ahmedabad and Baroda cities leaving five persons injured as the police opened fire to disperse mobs hurling stones and indulging in arson in the city, forcing deployment of the Army.


In video (28k, 56k)

NCM rejects Gujarat report
Directs state to follow its recommendations
New Delhi, April 25
The BJP-led NDA government's crisis management on the recent carnage in Gujarat has failed to yield the desired results. Public outcry apart, the Narendra Modi government in Gujarat has faced indictment from various quarters.
In Arts Tribune today

THE TRIBUNE MAGAZINES
On Mondays

On Sundays
On Saturdays

IN PASSING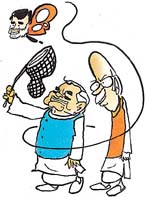 Naidu loves me, Naidu loves me not ...
by Sandeep Joshi

Nation page: India does not need sermons: PM


Gujarat: Canada voices concern


Ban Sangh bodies: Save India Front
UK for separate migrants' schools
London, April 25
The immigration debate sweeping Europe hit Britain today when a top minister defended plans to segregate immigrants' children so they do not "swamp'' the nation's schools.
Pritpal questioned
Chandigarh, April 25
After Jagman Singh, the spotlight in the Ravi Sidhu case has shifted to ousted Secretary of the Punjab Public Service Commission Pritpal Singh who appeared before the vigilance investigators today for questioning on the "recruitment " procedures followed by the commission.



Punjab page: Officers selected by Sidhu apprehensive
Edit page
FRANKLY SPEAKING: Crumbling pillars of governance
Dangers of a system where jobs are "sold"
Hari Jaisingh
THE quality of governance, among other ingredients, largely depends on the quality of the civil service as well as education.
MiG with 2 pilots missing
Tezpur (Assam), April 25
A MiG 29 aircraft of the Indian Air Force and its two pilots had been missing since April 20 from Darrang district in lower Assam, IAF sources said here today.


35 Punjabis feared dead near Greece
Jalandhar, April 25
In a virtual repeat of the tragic Malta tragedy about 35-55 Punjabis, who had gone to Lebanon in search of greener pastures are rumoured to have been drowned as their boat capsized on its way from Turkey to Greece on April 16.
Sidhu helped people at Badal's behest: Jagman
April 25, 2002

Censure move on Gujarat admitted
April 24, 2002

Ahluwalia sacked as VC
April 23, 2002

13 killed, curfew in Gujarat areas
April 22, 2002

NDA not a divided house: Vajpayee
April 21, 2002

PM dares Oppn to table no-trust move
April 20, 2002

BJP Parliamentary Board to decide on UP Govt
April 19, 2002

Gujarat Cabinet puts off decision on elections
April 18, 2002

TDP writes to LS Deputy Speaker
April 17, 2002

NDA crisis blows over
April 16, 2002