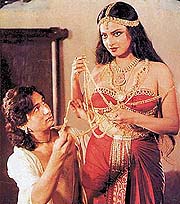 Rekha and Shekhar Suman in Utsav
Shashi Kapoor's Utsav based on the Sanskrit drama Mrichhakatika narrates the story of the love affair of a brahamin merchant Charudatta (Shekhar Suman) and a beautiful courtesan Vasantsena (Rekha). Vasantsena runs away from Samasthanka (Shashi Kapoor), the libidinous brother-in-law of the king and hides in the house of Charudatta. Samasthanka believes that he has killed Vasantsena. When Charudatta is sentenced to death for Vasantsena's murder, she turns up, alive and well and saves her lover's life. The picturesque film is an aesthetic delight.

Gautam Ghosh's Paar celebrates the triumph of courage and conviction. When henchmen of Utpal Dutt, a landlord, kill a benevolent schoolmaster, the only the progressive person in the village, Naurangia (Naseeruddin Shah) kills the landlord's brother in retaliation. Naurangia runs away to Calcutta with his wife Rama (Shabana Azmi). They move from pillar to post but find no employment. When Rama is to deliver her child, they decide to return to their ancestral village. To earn the fare, they agree to drive a herd of pigs through the swollen river. Both Shabana and Shah give a finely nuanced performance in this scene. In the middle of the stream, Rama fears that she has lost her baby. The film ends on an optimistic note when after crossing the river, Naurangia puts his ear to Rama's belly and listens to the heartbeats of the unborn child. The joy on their faces mirrors the divine rapture of a devotee who has found God.

Govind Nihalani's Party makes a hard-hitting analysis of Bombay's pseudo-intellectuals. Mrs Rane (Vijaya Mehta) hosts a party in honour of a poet Amrit (Naseeruddin Shah) who has won a literary award. As the evening passes, the masks of guests and hosts gradually drop and all of them are revealed to the shallow hypocrites. The climax is all the more shocking. It is learnt that Amrit will not be coming as he has been killed. The guests slowly leave the party. The film discusses whether a person can have two sets of values, one as an artist and the other as a human being.

Saeed Mirza's Mohan Joshi Hazir Ho celebrates tenacity of an average person. Mohan Joshi (Bhisham Sahni) — a retired clerk sues his landlord Kapadia (Amjad Khan) who wants to tear down an old building and build luxury buildings in order to earn more. Joshi engages a lawyer (Naseeruddin Shah) who promises legal miracles. The building is ready to fall. When a judge arrives to inspect the building for himself, the Machiavellian landlord sends an army of workers to fix the building to impress the judge to rule in his favour. Joshi pulls the temporary supports put up by the workers to prop up the building and the building falls down on him. The old couple — Joshi and his wife — are symbolic of an individuals awareness of his rights and the need to fight for them.

Prakash Jha's Damul depicts the feudal custom of panha against the backdrop of caste conflicts, massacre of untouchables and rape. Madho (Manohar Singh), a zamindar, uses the system of bonded labour to subjugate the harijan labourer, Sanjeevan (Annu Kapoor). Madho runs an extortion racket based on stealing cattle and forcing the owners to buy them back. The peasants who do not have any money to pay for the cattle borrow from the zamindar, thereby setting off yet another unending spiral of debt. In the end, Sanjeevan's wife kills Madho. The film is a powerful evocation of moral degradation culminating in self-destruction.

Amol Palekar's Ankahee is based on fatalism and superstition. Shriram Lagoo, an astrologer, predicts that the first wife of his son Nandu (Amol Palekar) will die in childbirth. This puts to an end Nandu's plans to marry Sushma. Hoping to circumvent his father's prediction, Nandu marries Indu (Deepti Naval), a mentally retarded girl. When she conceives, Nandu tells her his father's prediction. Indu is taken to the hospital and she survives but Sushma commits suicide.

Kumar Shahani articulates his concerns about social and political realities in Tarang. An industrialist family headed by Shriram Lagoo splits when his son-in-law (Amol Palekar) falls out with Lagoo's nephew (Girish Karnard). The central character of the film is Janaki (Smita Patil), the widow of a worker. Janki in her solitude is an incarnation of moral strength, a catalyst for her friends and co-workers to liberate themselves. Her commitment to progress is repeatedly exploited by those who love her. Forced by Amol Palekar to become his accomplice in a plot to kill his father-in-law, she is made the scapegoat when the family conflict escalates into a gang war. Accusing Amol of manipulating her, she claims the forces of change to be 'faster than the fleeting wind'. Smita Patil gives an intense performance that comes straight from her heart.