Scene one scene all
There's no stopping Ekta Kapoor. With over 40 soaps running concurrently in different languages, she is still raring to go. And channels, too, are queuing up outside her studio as if she was the last serial maker in the country.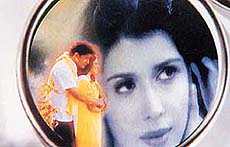 Kucch Jhuki Palkein... Been there seen that!

Starting April 22, the lady comes up with another soap on Sony Entertainment Television, Monday to Thursday at 2 p.m. Kucch Jhuki Palkein to focuses on the complexities of relationships in a family. "You just never know what bonds can metamorphose into," says Ekta.
This serial revolves around the dilemma of a young woman who sees a gradual erosion of the intensity of her lover's feelings towards her. The story could have had interesting possibilities. But the trouble here is that Ekta's serials across the channels have started looking and sounding so much alike that they follow a very predictable route. There's hardly any scope for innovation. Or as a viewer puts it, Kkuch Nahin Hota Hai! But, if you are not bored to tears with the same-ness of the 'K' inspired soaps go ahead and experience that feeling of deja vu.
Night out with Hrithik
With a list of box office duds which seems to be growing with every release, Hrithik Roshan should be counting his blessings that he's still considered the number one poster boy of Bollywood.
And he sure has a steady head over his shoulders when it comes to cashing in on his magical appeal. Which explains why Sony TV had a house full viewing on April 27 when it aired Roshans... The First 50 Years.
The event had the entire Roshan clan celebrating its 50 years in filmdom. Right from the days of the late music composer Roshan who created some lilting music in the fifties and sixties to the current heartthrob Hrithik, the family has always been refreshingly different.
Though composer Roshan's son Rakesh couldn't make it as a superstar he more than made it up as a director who has been giving such super-duper hits as Karan Arjun and Kaho Na Pyar Hai. Brother Rajesh took over from where Roshan left and hit bull's eye with Julie, his first film as music director.
The show had some interesting sidelights when Rakesh Roshan took viewers down memory lane re-living his early days in the film industry. It turned melodious when Alka Yagnik, Udit Narayan and Preeti Uttam began belting out Rajesh Roshan's evergreen hits. And it lighted up when Hrithik took centre stage with his dazzling performance. Needless to say it was a complete hit with viewers. Alas, Wish one could say the same about his movies as well!
Modelled for success
When she is facing the camera it is difficult to determine her age. For, Deepika Bhakriya can look as comfortable modelling as a 25-year-old lady doing the Haywards 500 ad or a convincing 16-year-old shooting for Siyaram's Jeans. And if you ask her what her actual age is Jyoti just smiles tantalisingly.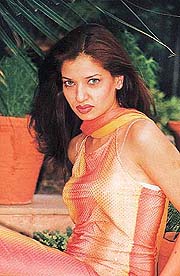 Deepika: All set for stardom

Which explains why this young lady with such a versatile face is a favourite model for a number of products. But Jyoti has set her sights higher. She is playing the lead role in the soon-to-be-released Bollywood thriller Yeh Kaisi Mohabbat and has several serial makers knocking at her door.
Apart from ads, TV is nothing new for Deepika. She's already starred in music videos like Jalwa and Mehendi Ki Raat and is now looking at a number of offers she's getting on the small screen. She also recently signed an untitled Tamil film with an entirely new star-cast.
"Initially Iwas just happy being a model and was not interested in acting," says Deepika who was then busy shaping her career in the now defunct Damania Airways.
But being the niece of Manoj Kumar helps. When her name was suggested for Yeh Kaisi Mohabbat she was selected instantly. "I am not going to stick only to one medium. I'll pick up any good roles that come my way — whether on the small or big screen," says Deepika who's also a graduate in hotel management. Wonder what's cooking in her mind?
Games Zee plays
The TRPs of most of its shows may be in a tailspin and its profits might be headed south, but Zee TV has a new gameplan up its sleeve.
In a bid to heave itself back in the number two slot the channel is banking on two pointer shows — Jeena Isi Ka Naam Hai every Friday at 9 p.m. and Khelo Number Khelo hosted by the irrepressible Archana Puran Singh. Being touted as the most expensive game show on television, it will be in the format of super-lottery or a diluted version of 'housie'.
There's also an auction show coming up titled Hazaar Bazaar. Much like the popular Internet site, baazee.com the show will put under the hammer cars, phones, refrigerators, computers and other household products. But only those viewers who have a pre-paid card can bid on this show. And each bid would also cost Rs 5.
Now that Zee has finally erased the painful experience of Sawaal Dus Crore, it is the season of game shows all over again. Whether they'll turn the fortunes of the channel is an altogether different proposition!
Jungle girl
If you are wildlife fan and always wanted to have some of those exotic creatures in your backyard, here is your chance to get up close and personal with the shy and elusive leopards. Don't let their coyness not deceive you. Leopards can be dangerous and cunning foes who kill without a reason.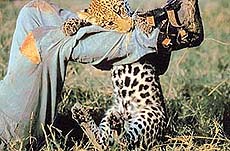 Jamu, the tale of an orphaned leopard

But Jamu on the National Geographic Network starting April 29 at 9 p.m. is very different. She's an orphan and far from being fearsome, she's as tame as a house pet — a playful baby girl.
Experience life in Zambia through the eyes of Jamu and two wildlife photographers who are her human companions. They'll tell you all the trivia about leopards: That males measure upto 300 cms from head to tail-tips while females are smaller at 200 cms. That males rise to a length of around 75 cms and females upto 65 cms. That males weigh around 60 kg, while females average at 45 kg.
The second episode of the series on April 30 at 9 p.m. will be on the same baby leopard's efforts to adjust with her human friends. Shot in the breath-taking backdrop of Luangwa Plains, this show is all about the special relationship between humans and animals.
Watch how Jamu grows into a full-blown female leopard and how she interacts with her human friends after becoming an adult. A fascinating series that brings out the beauty of a beast.
— Mukesh Khosla