Sunday, April 28, 2002

VIP Toon Tales
Vaclav Havel
Ranga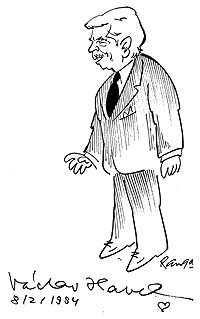 THE president of the Czech Republic, Vaclav Havel, is a great intellectual. He is an author of many publications and winner of many awards for his writings. He was in Delhi in 1984 on a state visit. A man known for his simplicity and modesty, Havel collected a good deal of goodwill from many people whom he came into contact with.
It was while attending one of his official functions, that he was approached by me, just as he was about to leave the venue, for his autograph over the sketch that I had drawn of him.
He looked at it minutely and held it up for a while in order to get the nod from his men who were accompanying him. He appeared is be highly satisfied and quickly affixed his signature with a design of 'heart' below it before he left for his next engagement.