Monday, May 6, 2002, Chandigarh, India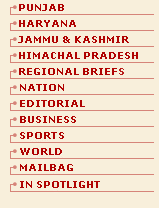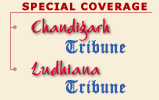 M A I N N E W S
TRIBUNE INVESTIGATION
When HPSC shunned experts
Ajay Banerjee
Tribune News Service


The 'powerless' expert
FOR posts of lecturer, food supply official, headmaster and even doctors, only an interview is conducted by the HPSC. No screening test is carried out by any committee which has external experts on the panel. The outside expert called in is usually a person from the department concerned. He or she enjoys no veto power, has no power to give marks and practically knows nothing about which candidate has been given how many marks. In case of selections to the judicial wing, a judge of the high court is called in. He rates the candidate on a scale from A to E, but cannot suggest what marks should be given, investigations reveal.
Chandigarh, May 5
Appointments made two days ago by the Haryana Public Service Commission to the HCS (Executive) in which kin of several VVIPs figure has not come as a surprise for those who know the style of functioning of the commission. In the past few years, moves to revamp the HPSC to bring it on a par with the Union Public Service Commission's uniform, scientific and transparent method of examination and interviews, have been stonewalled by the powers-that-be for obvious reasons.
Even as the Ravi Sidhu case continues to make headlines, is it not time that some kind of uniformity and incorporation of advice of experts in examination procedures be introduced? Well, the Punjab Civil Services Examination Rules 1930, applicable in both Punjab and Haryana, do not prohibit the use of external examiners.
Investigations by The Tribune reveal that there is no system of external experts having a meaningful say in the selection of candidates. At one point of time, members of the HPSC had refused to invite external experts to sit in interviews, saying that this would be like not having faith in the members who have "rich and vivid experience of various fields, thus there was no need to call in experts." Interestingly, the above self-praise has come about even as the Constitution of the country does not specify a minimum qualification to become a member of any public service commission.
In late 1990s, a proposal was mooted to invite external experts to conduct interviews. This would have been on the UPSC pattern which has a procedure for conducting tests and interviews for IFS, IAS, IPS, IRS or other civil services examination. The UPSC carries out no recruitment without a written examination. For interview, it relies totally on a committee of experts which is shuffled frequently. These experts come from different walks of life. An expert does not sit on the same committee for more than two days.
In the UPSC, each expert is given a detailed exposition on how to give marks and what type of questions to ask. All this was part of the proposal to the HPSC made in the late 1990s. It was suggested that since interviews in the commission carried 100 marks, the technique had to be legitimate and authentic.
The HPSC was suggested about the use of top academicians, directors of Indian Institutes of Management or Indian Institutes of Technology or Chief Executive Officers of top private companies. The entire set of proposals which included a system of who will set the question paper, a process of fixing fictitious roll numbers on answersheets before sending them for checking and a panel of experts had been copied from the UPSC. The members of the HPSC took it as an offence and wanted nothing of this sort to happen, investigations have revealed.