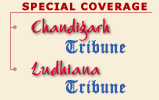 TRIBUNE INVESTIGATION
When HPSC shunned experts
Chandigarh, May 5
Appointments made two days ago by the Haryana Public Service Commission to the HCS (Executive) in which kin of several VVIPs figure has not come as a surprise for those who know the style of functioning of the commission.
Now, scam in Cooperation Dept
Vigilance to probe 'suspicious' deals
Chandigarh, May 5
One more scam, one more inquiry. This time it is the turn of the Punjab Cooperation Department. The Punjab Chief Minister, Capt Amarinder Singh, who has been shown documents pertaining to various suspicious looking deals in the department, has directed the authorities concerned to take up the matter with the Punjab Vigilance Bureau to bring out the truth.
In Agriculture Tribune today

THE TRIBUNE MAGAZINES
On Mondays

On Sundays
On Saturdays

Lawyers to meet today on charges against judges
Chandigarh, May 5
The general house of the Bar Association of the Punjab and Haryana High Court will meet here tomorrow at 12.45 pm. The meeting has been convened by the executive on a requisition submitted by 414 lawyers to discuss allegations against certain judges in the Punjab Public Service Commission recruitment scandal.
Chirac re-elected President


Paris, May 5
Re-elected President Jacques Chirac told French voters today he had understood their calls for reform and would soon appoint a transition government that would make fighting crime and boosting economic growth its priorities.


US report: Pak aiding ultras
Ministry expresses fear over US policy on Pak
Jammu, May 5
Excerpts from the US State Department's annual report on "Pattern of global terrorism" presented by US Secretary of State Collin Powell were released to mediapersons here today.
Peace prevails as Gill takes charge in Gujarat
May 5, 2002

8 die in MiG-21 crash
May 4, 2002

Oppn rips off govt on Gujarat
May 3, 2002

Censure move defeated in LS
May 2, 2002

Oppn guns for Modi
May 1, 2002

Paswan quits, parts ways with NDA
April 30, 2002

Fernandes, Modi lead peace march
April 29, 2002

Decks cleared for BSP-BJP govt
April 28, 2002

Sinha relents, gives sops to salaried class
April 27, 2002

Mayawati to be UP CM
April 26, 2002

Sidhu helped people at Badal's behest: Jagman
April 25, 2002

Censure move on Gujarat admitted
April 24, 2002