CM consults Montek Singh
Invite MNCs & reform power sector, Captain told


New Delhi, May 7
Industrious Punjab can rebuild its economy and put itself on a high- growth path by concentrating attention on reforming the power sector, refurbishing the tax collection machinery and providing focussed attention on its expenditure policy.
Punjab to seek vacation of Judge's order
Chandigarh, May 7
The Punjab Government will seek vacation of the interim order issued by Mr Justice Garewal, besides seeking dismissal of the petition filed by PPSC Chairman Ravi Sidhu seeking a ban on the release of information to the media about investigations in the recruitment scam.
In Health Tribune today

THE TRIBUNE MAGAZINES
On Mondays

On Sundays
On Saturdays

IN PASSING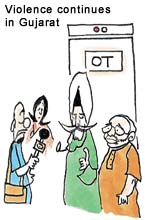 Well, don't worry. I'm around!

by Sandeep Joshi
Haryana to get 12,000 cr for Tenth Plan
New Delhi, May 7
Haryana's Tenth Five-Year-Plan (2002-2007) has been approved at Rs 12000 crore and the Annual Plan for 2002-2003 has been approved for Rs 2034 crore by the Planning Commission here today. Deputy Chairman Planning Commission K.C. Pant had a meeting with Haryana Chief Minister here today.
Haryana Chief Minister Om Prakash Chautala with Deputy Chairman Planning Commission K.C. Pant in the Capital on Tuesday. — Tribune Photo Mukesh Aggarwal
2 Pak infiltrators shot dead
Jammu, May 7
Two heavily-armed Pakistani infiltrators were shot dead in two encounters near the Pindi and Kote Kuba border outposts (BOPs) in the Arnia sector along the international border of the Jammu region this morning. A senior police officer said here that Indian border guards manning the Pindi BOP noticed some persons moving suspiciously near the border.


NHRC notice to Gurgaon SSP
Gurgaon, May 7
The National Human Rights Commission has put the Haryana police, especially the Gurgaon police, in the dock by taking cognizance of a complaint lodged with it by an officer of the Delhi police alleging violation of his human rights. The development has allegedly sent ripples in the Delhi police and is likely to affect the relationship between the Haryana and the police force of the Capital.
Satyameva Jayate, assert advocates
May 7, 2002

Ahmedabad burns again: 7 dead
May 6, 2002

Peace prevails as Gill takes charge in Gujarat
May 5, 2002

8 die in MiG-21 crash
May 4, 2002

Oppn rips off govt on Gujarat
May 3, 2002

Censure move defeated in LS
May 2, 2002

Oppn guns for Modi
May 1, 2002

Paswan quits, parts ways with NDA
April 30, 2002

Fernandes, Modi lead peace march
April 29, 2002

Decks cleared for BSP-BJP govt
April 28, 2002

Sinha relents, gives sops to salaried class
April 27, 2002